North America
Great Satan US requests $500 million to aid Syrian terrorists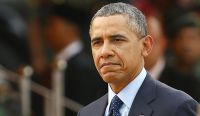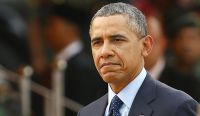 Zionist US President Barack Obama has requested $500 million from Congress to train and arm terrorists fighting the government of Syrian President Bashar al-Assad.
According to Press TV, Caitlin Hayden, the national security spokeswoman said in a statement, "While we continue to believe that there is no military solution to this crisis and that the United States should not put American troops into combat in Syria, this request marks another step toward helping the Syrian people."
If approved, the program would supplement a covert train-and-assistance program run by US intelligence agencies.
The Senate has already authorized to provide equipment, supplies, and training services to the anti-Damascus militants.
The Obama administration said in its budget request to Congress Thursday that the money can "help defend the Syrian people, stabilize areas under opposition control and facilitate the provision of essential services, counter terrorist threats, and promote conditions for a negotiated settlement."
Washington has been openly supporting the armed opposition in Syria both financially and militarily in the years-long conflict that ravaged the Arab nation.