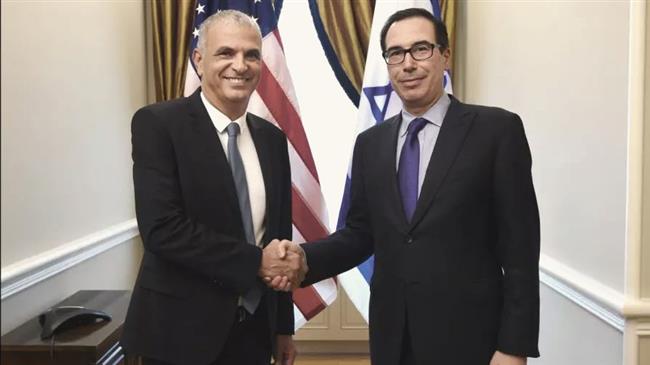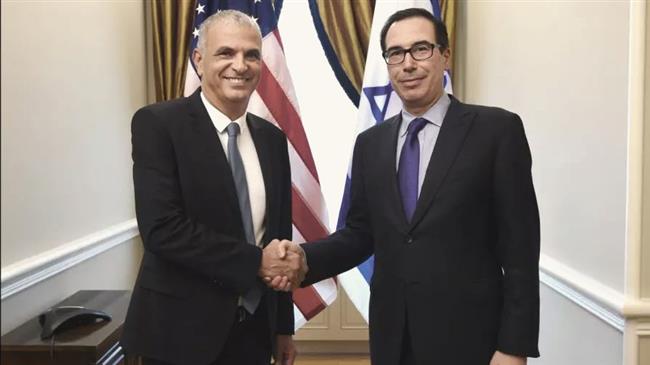 The United States is teaming up with the Israeli regime to enforce economic sanctions against Iran in the wake of Washington's withdrawal from the internationally backed nuclear deal with Tehran.
Israeli Finance Minister Moshe Kahlon and US Treasury Secretary Steven Mnuchin agreed to set up a joint team for that purpose after meeting in Washington Tuesday.
This was the fourth time Mnuchin, also a Jew, was meeting with Kahlon in the past 12 months.
The Iranian first vice president says Tehran is looking for solutions to continue selling its crude oil after the re-imposition of the US sanctions.
"The meeting with Treasury Secretary Steven Mnuchin is intended to deepen our strategic-economic ties with the US. The joint task force which we established will be crucial in tightening sanctions on Iran," said the Israeli minister, further claiming that "The economic sanctions that the US imposed on Iran are proving themselves."
'Israel thankful to US'
The administration of US President Donald Trump illegally re-imposed sanctions on Iran earlier this month after pulling the US out of the Joint Comprehensive Plan of Action (JCPOA) in May despite Tehran's compliance with the agreement, which is still supported by the UK, Russia, Germany, China and France.
Kahlon cited "Israel's security," asserting that "we should be thankful to the US" for reintroduction of the illegal sanctions.
With an estimated 200 to 400 nuclear warheads in its arsenal, the TEl Aviv regime has refused to allow inspections of its military nuclear facilities or sign the international nuclear Non-Proliferation Treaty (NPT).
The Iranian foreign minister says Israel's nuclear warheads are the real threat to the Middle East region and the rest of the world.
On February 22, 2012, Leader of the Islamic Revolution Ayatollah Seyyed Ali Khamenei said that Iran considers the pursuit and possession of nuclear weapons "a grave sin" from every logical, religious and theoretical standpoint.
Washington's recent attempts to pile up economic pressure will face defeat, according to Iranian President Hassan Rouhani.
"We need to tell the Iranian nation that we will not allow the United States' plots to succeed. The nation should be sure that we will not allow a bunch of anti-Iranians, who have gathered at the White House today, to plot against us," Rouhani said during his comments to Iranian lawmakers on Tuesday.