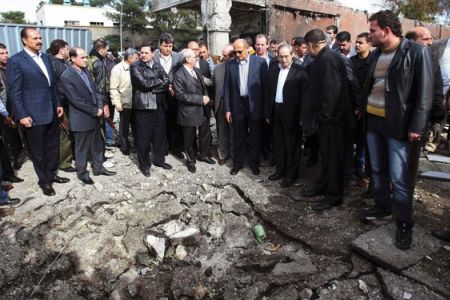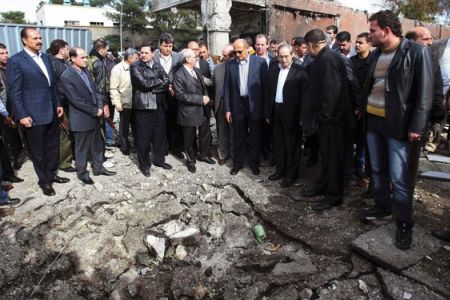 Syria has accused the United States and zionist israel of involvement in the two deadly attacks on Friday which claimed the lives of 55 innocent people and injured more than 100 others.
Syria's ruling Baath Party said on Saturday that the attack was a plot to destroy the Syrian establishment.
The party added that the plot was also aimed at undermining the national unity of Syrians, and their confidence in the leadership of the country.
Thousands of Syrians had on Saturday held a funeral ceremony for the victims of the terror attacks.
While mourning the dead, they also condemned the attacks and chanted slogans in favor of Syrian President Bashar al-Assad.
Explosives on two booby-trapped cars were detonated within minutes of each other on Friday morning, one outside the main headquarters of the General Intelligence Agency and the other in the vicinity of a branch of the military intelligence.
The blasts happened as an Arab League delegation was visiting Damascus to help end months of violence in Syria.
Syria has been experiencing unrest since mid-March, with demonstrations being held both against and in favor of President Assad. Hundreds of people, including security forces, have been killed in the turmoil.
While the West and the Syrian opposition accuse the government of the killings, Damascus blames "outlaws, saboteurs and armed terrorist groups" for the unrest that erupted in mid-March, insisting that it is being orchestrated from abroad.
In interviews with zionist israeli news outlets over the past few months, the Syrian opposition members have clearly expressed their vision for the future of Syria and their interest in establishing ties with the Tel Aviv regime.
However, Syrian people have repeatedly expressed solidarity with the government. Figures show that during the past weeks, about 12 million people have demonstrated in support of al-Assad.