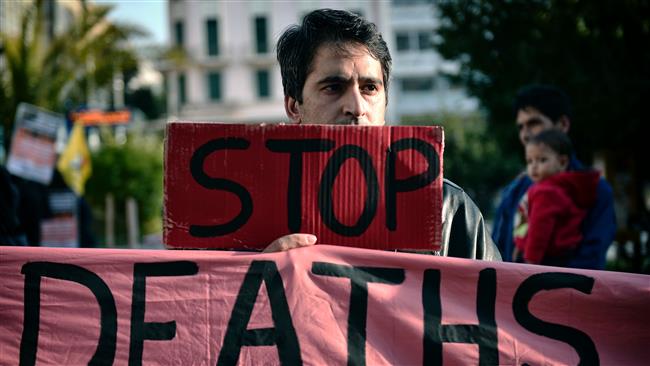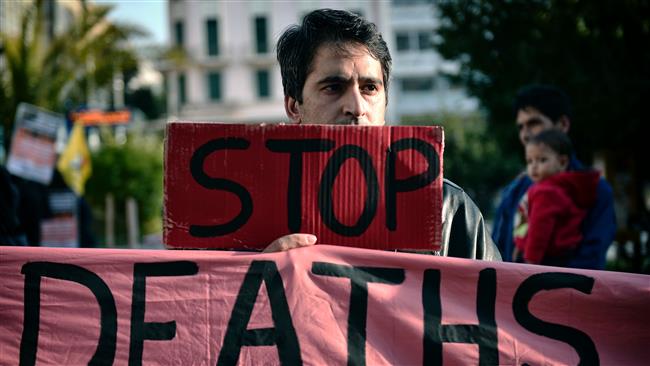 People on the Greek island of Lesbos have staged a protest rally to express their solidarity with asylum-seekers after the recent death of three refugees at a badly overcrowded camp there.
The protesters called for the immediate closure of Moria refugee camp and other cramped facilities in Lesbos on Friday, also demanding that European governments resettle the asylum-seekers under appropriate conditions.
The rally came less than a week after three refugees, a 20-year-old Egyptian, a 46-year-old Syrian and a third man believed to be a 20-year-old Pakistani national lost their lives in Moria due to carbon monoxide poisoning from makeshift heaters.
At least 3,000 refugees are currently living in Moria, waiting for months to be either granted asylum or deported from Greece.
"We wish to show solidarity in every possible way towards those people's difficulties. A solution needs to be found as soon as possible. These are terrible living conditions, they are truly unacceptable," a Greek protester said.
"We are asking for the immediate closure of the death camp, like we call it. We are asking for the immediate border opening so that people can reach their destination," said another.
Amnesty International and other rights group have already voiced concerns over the dire situation in Greek refugee camps, citing a lack of heating, food and clothing.
"The situation in Lesbos and in general in the islands is extremely concerning now and we believe that this is the result, the direct result, of the implementation of the EU-Turkey deal. So, because of this deal the overcrowding in the islands of refugees and migrants is very, very concerning," said Monica Costa, Amnesty migration campaigner.
Meanwhile, Greek opposition party leader Kyriakos Mitsotakis paid a visit to the island later in the day and observed the situation in the refugee camps. He condemned the government for acting too slowly on the asylum process and censured Athens for delaying to complete infrastructure projects in Moria camp.
Another protest was staged in front of  the Greek Migration Ministry in the capital, Athens, over harsh living conditions in refugee camps.
Greece, which has over 60,000 refugees trapped on its soil, has refused to permit large-scale relocation from the islands to the mainland.
They have crossed the Mediterranean Sea in the hope of reaching wealthy European countries, but they are struck in Greece as several eastern European and Balkan states closed their doors to them earlier last year.
The Greek government is still struggling to cope with the refugee crisis despite a deal between the EU and Turkey aimed at reducing the numbers of people crossing by boat to the Greek islands.
Europe, which is now under fire for its anti-refugee policies, has so far refused to resettle meaningful numbers of them.
Many analysts believe western intervention and policies are largely to blame for the refugee crisis crippling Europe.