North America
Gunman shot dead after killing one, injuring 13 in Canada's Toronto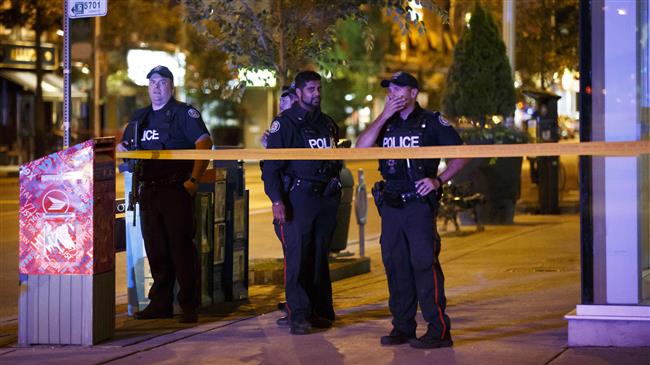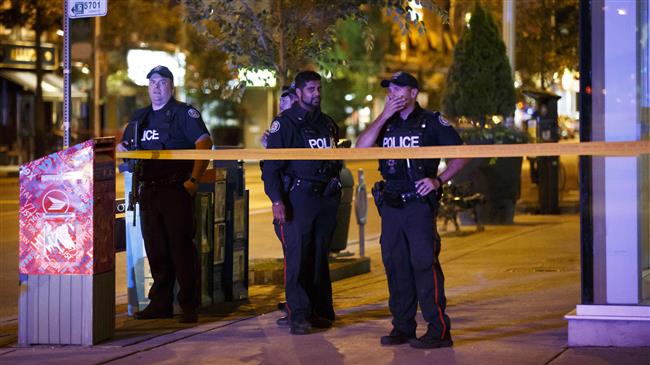 At least one woman has been killed and 13 others, including a child, sustained injuries after a gunman went on a shooting spree in Canada's biggest city of Toronto.
The deadly incident occurred in central Toronto on Sunday night, Toronto Police Chief Mark Saunders said, adding that the assailant, whose identity and motives are yet to be disclosed, had been gunned down by security forces.
He further said that the injured had been taken to hospital and that the wounded child was in critical condition.
"We are looking at all possible motives… and not closing any doors," Saunders told reporters at the site of the shooting. He added that the attacker had used a handgun and began "an exchange of fire" with security police that led to his death.
According to local news outlets, the shooting attack in Toronto's busy Greektown neighborhood began at 10 p.m. local time (0200 GMT Monday). Witnesses said they heard the roars of 25 gunshots and the sound of a weapon being reloaded several times.
Paramedics, firefighters and police converged on the crime scene in the city's east end, which has many popular restaurants, cafes and shops.
Ontario's new Premier Doug Ford also expressed his solidarity with the victims in a tweet, saying: "My heart goes out to the victims and loved ones of the horrific act of gun violence in Toronto."
Toronto has been struggling with a dramatic rise in gun violence this year. More than 200 shooting incidents have been reported since January. According to police, about two dozen of the shooting cases have been fatal.
Mayor John Tory said the deadly incident was "evidence of a gun problem" in the metropolis. "Guns are too readily available to too many people," he said at a news conference two hours after the shooting took place.
Toronto has already deployed some 200 police officers since July 20 as part of its gun violence reduction plan in response to the recent surge in shootings, which city officials have blamed on gang violence.
The Greektown shooting occurred some three months after the city was shocked by the deaths of 10 people, most of them women, killed by a male assailant, with an apparent grudge against women, who drove into them on a busy street in the city's north end.