Africa
World News
Hafter forces 'pushed back' from checkpoint after short exchange of fire
Forces loyal to Libya's strongman Khalifa Haftar have been pushed back from a key checkpoint a day after they managed to seize the control of a town in the south of the capital Tripoli.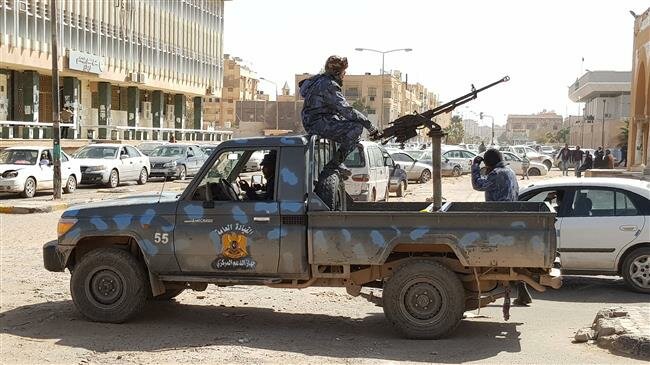 Forces of the so-called Libyan National Army (LNA) were driven from the checkpoint less than 30 kilometers from Tripoli after a "short exchange of fire" on Friday, according to security sources.
They also said dozens of pro-Haftar forces had been captured and their vehicles seized.
The Tripoli Protection Force – an alliance of the county's internationally recognized government in the capital — confirmed that its fighters had taken part in the recapture of the checkpoint.
Haftar's LNA had claimed that its advance on the country's west was meant to root out what it called "terrorist groups" in the restive region.
New flare-up threatens Libya as Haftar forces seize townForces loyal to Libya's strongman Khalifa Haftar say they have seized full control of a town south of the capital Tripoli in their westward advancement.
Libya has been the scene of increasing violence since 2011, when former dictator Muammar Gaddafi was toppled from power after an uprising and a NATO military intervention.
His ouster created a huge power vacuum, leading to chaos and the emergence of numerous militant outfits, including the Takfiri Daesh terrorist group.
The oil-rich country is now divided between two rival governments —the House of Representatives, based in the eastern city of Tobruk, and the internationally-recognized government of Fayez al-Sarraj, or the Tripoli-based unity Government of National Accord (GNA).
The recent escalation has prompted the UN Security Council to call for an emergency meeting on Friday.
UN chief Antonio Guterres who was visiting Tripoli also voiced his "deep concern" about the recent conflict, calling "for calm and restraint as I prepare to meet the Libyan leaders in the country."
The United Nations is scheduled to hold a conference later this month in the southwestern Libyan city of Ghadames to discuss a political solution to the conflict and stabilize country.