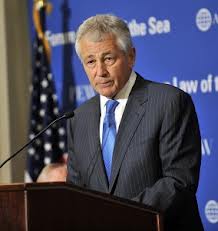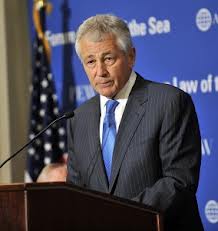 Pentagon chief Chuck Hagel met his Israeli counterpart Moshe Yaalon on Monday to put the finishing touches on a major arms deal and for talks on Syria's crisis and the Iranian nuclear program.
Speaking at a joint news conference in the Zionist entity, Hagel confirmed the two sides had finalized details of a multi-billion dollar arms deal which will see the Zionist entity receiving an impressive package of advanced US missiles and aircraft.
"Today we took another significant step in the US-Israel defense relationship," Hagel said, reiterating Washington's "ironclad pledge" to ensure Israel's military edge in a region rocked by turmoil.
He added: "Minister Yaalon and I agreed that the United States will make available to the Zionist a set of advanced new military capabilities … including anti-radiation missiles and advanced radars for fighter jets, KC135 refueling aircraft, and most significantly the V-22 Osprey, which the United States has not released to any other nation."
Hagel arrived in the Zionist entity on Sunday at the start of a six-day regional tour, his first since taking over as Pentagon chief two months ago.
On the other hand, Yaalon admitted that the Zionist entity had already acted to stop what he said "providing Hezbollah and other resistance groups with advanced Syrian munitions."
Earlier in January, western diplomats reported that the Zionist entity targeted a weapons convoy near Damascus. However, Syria accused Tel Aviv of bombing a military research center at Jamraya, between Damascus and the Lebanese border.
Yaalon announced "clear red lines" for Syria to "abide by," saying that Damascus has to stop delivering sophisticated weapons to Hezbollah and other resistance groups.
"When they crossed this red line, we acted," he said.
The other two "red lines" were maintaining calm along the Israeli-Syrian ceasefire line on the occupied Golan Heights and "preventing the transfer of the chemical weapons to Hezbollah and other military groups."
"CLEAR SIGNAL TO IRAN"
On Iran's nuclear program, the US Defense Secretary said he had had "clear, direct conversations" with Yaalon over the issue.
Hagel said the arms deal with the Zionist entity sent a "very clear signal" to Iran that military action remains an option against the Islamic Republic.
"I don't think there's any question that's another very clear signal to Iran," he said, reiterating what he called Washington's credo that "every sovereign nation has a right to defend itself."
Iran confirms its program is for peaceful ends only insisting that is its right under the Nuclear Nonproliferation Treaty (NPT) while Israel, which is believed to be the sole nuclear power in the Middle East with more than 200 nuclear heads, is not a signatory for this treaty.
Later on Monday, Hagel will meet Israeli President Shimon Peres and then hold talks with Prime Minister Benjamin Netanyahu on Tuesday morning before leaving for Jordan.
He will also visit Cairo on his tour, then Riyadh and Abu Dhabi to finalize details of the elaborate $10 billion arms deal that will also provide sophisticated missiles to Saudi and US F-16 fighter jets to the UAE.