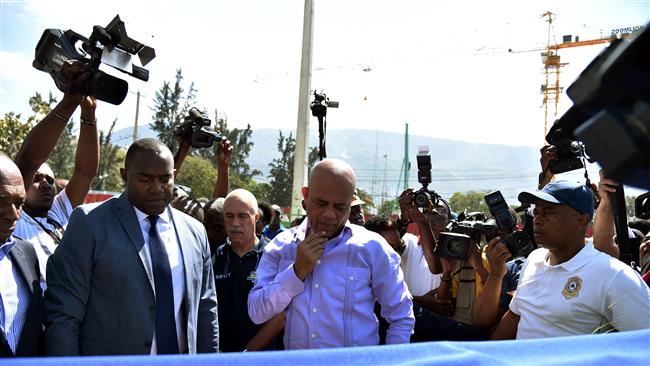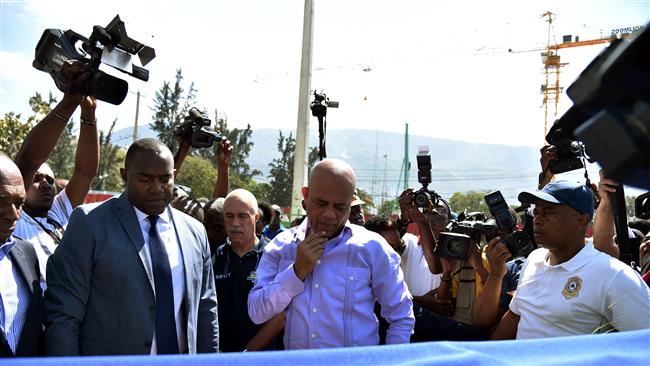 Haiti's President Michel Martelly has pledged to step down in three days despite having no replacement after a botched election, which has triggered widespread opposition protests in theCaribbean country.
"I am grateful to all those who allowed me to serve. On Feb. 7, I'll leave without any regret, any envy and without any desire to remain in power," Martelly told reporters in the capital Port-au-Prince on Thursday.
Martelly had earlier warned that he would not resign without an established succession plan. The president had said he was "not going to leave the country in uncertainty" and vowed to find a solution for the political crisis.
His earlier announcement enraged protesters, who have marched in Port-au-Prince almost on a daily basis over the past two weeks over alleged vote fraud in the first round of presidential election last October.
Martelly's term expires on February 7 and he is constitutionally barred from standing for re-election.
This is while run-off elections to choose the next president were cancelled last month when opposition candidate Jude Celestin threatened to boycott the vote, claiming that the October 2015 round was rigged in favor of the ruling party candidate, Jovenel Moise.
Meanwhile, Haitian politicians are at odds over who should lead an interim government, a situation that could leave the country in a power vacuum. A mission from the Organization of American States is attempting to broker a solution.
Jocelerme Privert, president of the Senate, has promised to find an interim successor for Martelly. "The National Assembly will take all necessary measures to fill the vacancy of the presidency," he said.
Martelly's favored presidential contender, Moise, managed to win last October's first round polls with nearly a third of the vote, and remains the favorite to win the race.
Celestin, however, came in second place closely behind Moise, but refused to campaign ahead of the run-off round, accusing the government of working against him.
The presidential run-off, which was set to take place on December 27, was put off indefinitely last Friday, less than 48 hours before voting was to commence.
In recent weeks, the opposition protesters have been demanding that Martelly, who has held power since 2011, resign immediately, and that an interim government schedule new elections in early February.
Since 1986, when the president-for-life, Jean-Claude Duvalier, fled the country following a nation-wide uprising, the island nation has repeatedly struggled to hold credible elections.