Middle East
Syria
Hama: Syrian Army Close to Laying Siege on Tahrir Al-Sham Al-Hay'at in Strategic Region
The Syrian Army is about to complete a siege on Tahrir al-Sham al-Hay'at (the Levant Liberation Board or the Al-Nusra Front) in a strategic region in Northwestern Hama as government forces continue their advances in the region and win control over vital regions.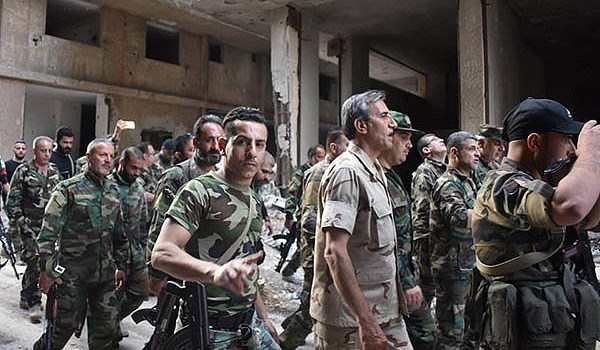 The Syrian Army troop backed by artillery and air force continued their clashes with Tahrir al-Sham terrorists in Northwestern Hama, taking control of the towns of al-Hamra, al-Mohajerin, al-Sharei Airport and al-Samaneh Farm in Sahl al-Ghab region.
A military source, meantime, pointed to the advances by the Syrian Army troopers in Northern al-Hawiz town, and said that the Syrian Army by taking control of new regions in those regions is very close to laying siege on Tahrir al-Sham terrorists in several towns and villages in Sahl al-Ghab region in Northwestern Hama.
The Arabic-language Al-Watan, meantime, reported that the Syrian Air Force pounded the military positions and movements of terrorists in Ba'arbu regions near Jabal Shahshabu, al-Hawiz, al-Hawija, Rakaya, Abedi and Shahr Naz in Northwestern Hama, destroying several military vehicles and their hideouts.
Meantime, the Syrian Army's artillery units and air force pounded the terrorists' military positions and movements in al-Hobait, Kafar Sajaneh and Khan Sheikoun in Southern Idlib, destroying a military center and several positions.
In a relevant development on Tuesday, the Syrian Army foiled major attacks by Turkey-backed Tahrir al-Sham al-Hay'at on government forces' military positions in Aleppo, a move assessed to be aimed at deflecting pressure of the army's military operations in Hama province.
The Arabic-language al-Watan newspaper reported that "Tahrir al-Sham terrorists launched tough attacks on the Syrian Army's military positions in Khalseh, al-Hamireh, Zamar and Havir al-Eiss in Southwestern Aleppo and Kastelo road in Northern Aleppo after receiving orders from Turkey".
The newspaper underlined that the coordinated attacks by terrorists have taken place with the aim of derailing Syrian Army's military operations in Northern and Northwestern Hama as well as Southern Idlib and Northeastern Lattakia.
It noted that the Syrian Army troops thwarted the terrorists' attacks after killing and injuring tens of militants.
Meantime, the Syrian Air Forces targeted terrorists' convoys in Aleppo-Hama Road while they were trying to reach battlefronts in Southern Idlib and Northern Hama from Afrin, destroying several military vehicles which were carrying weapons and military equipment.
The Arabic-language version of Russian Sputnik News Agency quoted a military source as saying that the Syrian Army troops and Russian fighter jets pounded the movements by Tahrir al-Sham and Turkistani Party in Haritan, Hayan to Bianon and al-Malah, West of Aleppo, and Khan Touman, al-Ais, al-Haser, Khalseh and Hamira South of the same province.