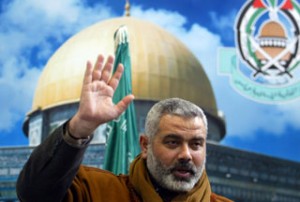 The elected Palestinian Prime Minister Ismail Haniyeh is planning to appoint a female minister to head a Women's Affairs Ministry in the besieged Gaza Strip.
"The government is planning to appoint a number of female ministers to better include them in the decision-making process," the Ma'an new agency quoted Haniyeh as saying at an event held on Tuesday to honor working women in Gaza City.
"We are a national government, based on Islamic principles, and we call on women to be more involved in the parliament, municipalities, and ministries. We are proud of this for this is a woman's right," he added.
Haniyeh said the Gaza government will attach more significance to women's issues in the future.
The decision came a day after International Women's Day, which was celebrated across the globe on March 8. World leaders and international organizations are calling for women's rights to be recognized and for women to be given more opportunities in order to help resolve global problems.