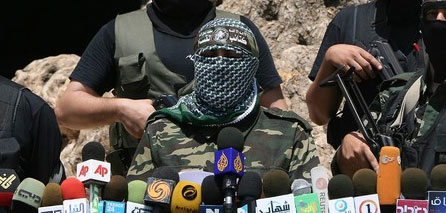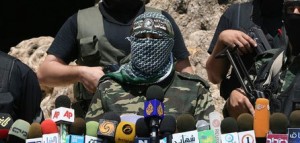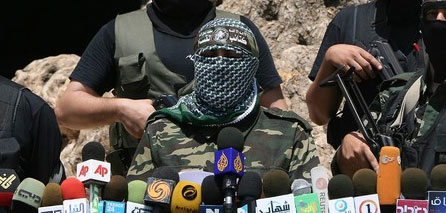 Dr. Khalil Al-Hayya, a member of Hamas political bureau, stated Monday that his Movement can never renounce the option of resistance which is considered one of its fundamental principles, stressing that Hamas always support this option by all means available.
This came in a speech during the funeral of martyrs Mohamed Al-Nawati and Ahmed Abu Guneima, resistance fighters of Al-Qassam Brigades, the armed wing of Hamas, who were killed during a Jihad mission east of Gaza city.
Hayya stressed the need for adopting the option of resistance as the only way that the can be used to restore the usurped Palestinian rights.
He highlighted that the martyrdom of these two resistance fighters in the eastern borders of Gaza during a Jihad mission was a clear sign that Al-Qassam Brigades is still on the battlefield.
In another context, Hamas lawmaker Ahmed Atwan, who was released few days ago from Zionist jails, said that the occupied city of Jerusalem is exposed to fierce Zionist attack to separate it from its past, present and future.
In a press statement, Atwan added that the Zionist occupation devoted its efforts to erase the historical identity of the holy city through unprecedented Judaization schemes.
The lawmaker called for pooling the efforts to protect the holy city and consolidate the Arab historical presence in the city, noting that the activities and efforts taking place are very limited and not commensurate with the sanctity of the city and its status.
For their part, Hamas lawmakers in the West Bank strongly denounced the ministry of prisoners in Ramallah for not inviting them to attend the international conference on the Palestinian prisoners in Zionist jails and participate in its events.
In a press release, the lawmakers said that the issue of Palestinian prisoners is a national issue and should not be monopolized by anyone.
They said that the ministry of prisoners in Ramallah deliberately prevented them from attending the conference despite the fact that all of them experienced detention life in Zionist jails and shared the concerns of Palestinian prisoners.