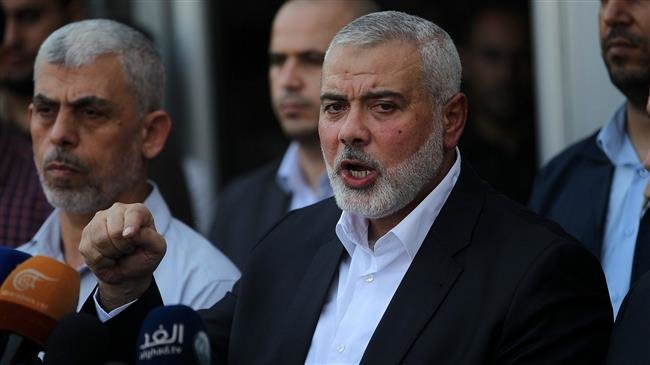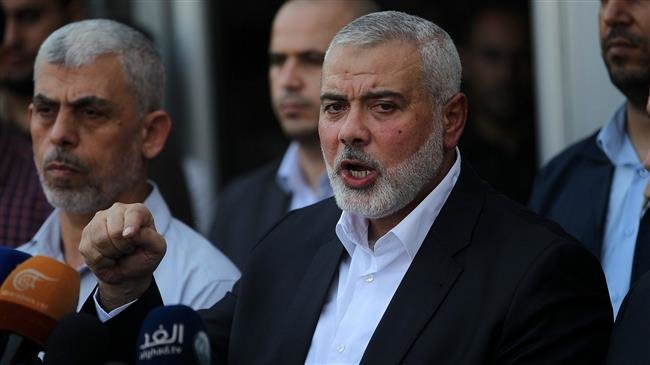 Hamas has written to the UN, condemning "aggressive" attempts by the US to pass a resolution against the resistance movement, urging the world body to end Tel Aviv's "abhorrent" occupation of the Palestinian territories.
In a letter addressed to UN General Assembly President Maria Fernanda Espinosa on Wednesday, head of Hamas Political Bureau Ismail Haniyeh highlighted the importance of international work to thwart Washington's efforts meant to delegitimize the Palestinian resistance.
He also reiterated the right of the Palestinian nation to defend themselves and resist the occupation, describing Hamas as a movement that acts for "the fulfillment of the Palestinian aspirations."
The letter came days after Israel's UN Ambassador Danny Danon said that US diplomats had been in talks with their EU counterparts to win their backing for a draft resolution against Hamas.
The UN General Assembly is expected to vote Friday or possibly Monday on the motion.
A draft text seen by AFP "condemns Hamas for repeatedly firing rockets into Israel and for inciting violence."
Elsewhere in his letter, Haniyeh said that he has been "following up with great anger and condemnation the ongoing and miserable efforts by the United States of America, not only by adopting the Israeli narrative of the conflict, but also by providing all the necessary material and moral support for the Israeli occupation."

He also stressed that Hamas would "greatly count on the members of the UN General Assembly [to] stand by international legitimacy in support for the right of peoples to defend themselves and thwart these aggressive American endeavors."
At least 20 Palestinians are injured as Israeli forces once again opened fire on anti-occupation protests in the besieged Gaza Strip.
The Hamas leader further denounced Israel's occupation of the Palestinians lands, illegal settlement activities, the judaization of Jerusalem al-Quds and the terrible siege imposed on the Gaza Strip.
Israel, he added, is "acting as an entity above the law, by rejecting dozens of international resolutions condemning the occupation, settlement and targeting civilians, and even working to abort these decisions and prevent their implementation in all ways."
Additionally, Haniyeh called on the UN to put an end to the "abhorrent" Israeli occupation and help Palestinian dreams come true.
The Palestinian Hamas resistance movement has released a video of a retaliatory guided-missile strike against an Israeli military bus.
Hamas runs Gaza, which has been under a crippling siege since 2007 and witnessed three wars since 2008.
The coastal sliver has also witnessed a fresh wave of tensions since March 30, which marked the start of "The Great March of Return" protests.
The Tel Aviv regime carries out regular attacks on Gaza under the pretext of hitting positions belonging to Hamas. In response, the resistance group conducts rocket attacks in the occupied territories.