Palestine
Hamas: Fatah spokesmen lie to defend Abbas's antinational position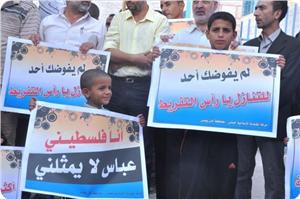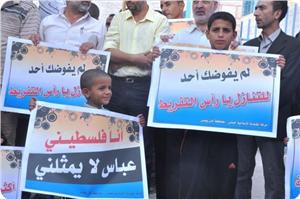 The Hamas Movement scoffed at the attempts by Fatah faction to defend the concessions made by its president Mahmoud Abbas through accusing its rivals of meeting Zionists in the Qatari capital Doha.
One of Fatah spokesmen on Monday tried desperately to defend Abbas and the concessions he made on Palestinian national rights in an interview on the PA TV, claiming that Hamas officials had met with Israelis in Doha to prevent Abbas from going to the UN.
"It was not surprising to see the spokesman for Fatah and the Palestinian authority in Ramallah resorting to lies in an attempt to defend the remarks made by Mahmoud Abbas to a Zionist TV station because such people accustomed themselves to such methods," Hamas said in a press release.
"It was also outlandish that [the spokesman] was defending the concessions made by Abbas and justifying the meeting with Zionists through saying that others meet them too," it added.
Hamas emphasized that Fatah's attempt to find a way out of the trouble caused to it by Abbas should not be through fabricating lies and accusations against its other rivals, but through admitting the mistake and holding him accountable for his irresponsible remarks on the national rights.
For his part, the general secretariat of the Palestinians in Europe called for revoking the political cover given to Abbas and holding a popular trial against him for the concessions he made on the right of return.
Member of the general secretariat Amin Abu Rashid told Quds Press on Monday that the Palestinians in Europe have become more adherent than ever to their right to return to their cities and villages they were forcibly expelled from more than six decades ago.
Abu Rashid affirmed that the Palestinians in Europe do not want Abbas to represent them anymore after he blatantly waived the right of Palestinian refugees to return to their homeland.
He slammed Abbas's aides for their attempts to justify the concessions he made by talking about the fait accompli, and questioned mockingly if this situation also applies to what the Israeli occupation regime has created on the ground regarding Jerusalem, the settlement expansion, borders, water resources and other different issues in the Palestinian arena.
"Abbas's remarks are not surprising, but they were painful because he tries every time to hurt the Palestinian people, especially in the diaspora," he underscored.
"While the Palestinians in Europe is trying to force the British government to apologize after 95 years for the fateful decision it had made about the establishment of a national home for the Jews on the land of Palestine, Abbas suddenly renounces our right to Palestine," Abu Rashid added.