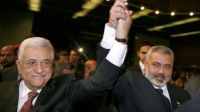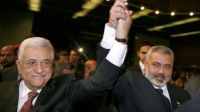 An official of Hamas resistance movement says the two main Palestinian political factions of Hamas and Fatah will announce a new Palestinian "consensus government" within days.
According to Press TV, Bassem Naim, a senior Hamas official, said on Sunday that a top member of Fatah movement would meet officials of the resistance movement to conclude negotiations between the two sides.
AFP quoted Naim as saying Azzam al-Ahmad is "arriving in Gaza on Wednesday and Thursday to meet with the Hamas reconciliation delegation to hold consultations".
Reports last week said that acting Palestinian Authority chief Mahmoud Abbas has ordered his delegation to strike a deal with Hamas on the new government.
The senior Hamas official added "We expect the government to be announced by (Abbas) early the following week."
On Saturday, the Palestinian rival groups hammered out a deal on new cabinet ministers.
A senior Hamas leader, Musa Abu Marzouk, said "Hamas and Fatah have reached agreement on the names of the ministers who would serve in a new Palestinian unity government."
On April 23, Hamas and the Palestine Liberation Organization (PLO), which includes Fatah party, reached a reconciliation deal to resolve their differences.