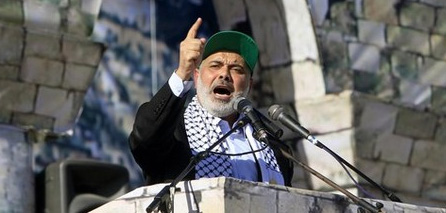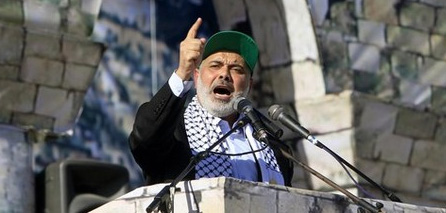 Addressing hundreds of thousands of Palestinians marking the 23red anniversary of Hamas in Al Kateeba Al Khadra, Gaza, Palestine's Prime Minister in the Gaza Strip Ismail Haneyya said Palestinian reconciliation is the strategic option of the Hamas party, which has come to correct the deviation the PLO has fallen into when recognizing Israel.
Haneyya said Gaza was not intimidated by recent Israeli threats of sparking war in the region. "We fear Allah only, but we are taking these threats seriously."
The Palestinian premier saluted Raed Salah upon his release from a five month-term in Israeli detention and Jerusalem lawmaker Mohammed Abu Teir as he marks his freedom, but renounced at the same time his exile to the West Bank.
"The month of December marks three occasions. On Dec. 8, 1987 the inception of the stone took place in the first intifada. On Dec. 14 was the first statement. On Dec. 7, 1992 was the exile to Maraj al Zuhur of Hamas and Islamic movement leaders, and on Dec. 27, 2008, was the Furqan war. There were also movements from other factions before the three decades."
The common denominator between the occasions, he added, is that Islam was the custodian of these major events, and belief and faith, the first sparks igniting in the mosque.
The PM noted a significant decline in the Israeli occupation and the expansion of the Palestinians on the ground. "Some believed the occupation would grow with the passage of time, but today the occupation is on the decline. It left Gaza by resistance and steadfastness, and partially left the West Bank with resistance and steadfastness, and returned there because of absurd politics."
Hamas's inception was a step in the path of correcting the deviation from the cause the PLO went on with when recognizing Israel.
"Hamas must say in correction of this deviation that Hamas will remain faithful to the rights of the Palestinian people."
"Hamas did not fall, did not fail, and did not withdraw from the political confrontation, and today it advances with full confidence toward promoting steadfastness, strength, and unity."
If elections were to take place, they would go to Hamas in the West Bank as well as in Gaza with a greater margin than the last elections, Haneyya went on to say in awe of the masses that attended the function.
Touching on Hamas's independence in decision-making, the Prime Ministet said: "We have many relations. It is a movement open to all, but that does not mean interference in decision-making. Some would like to say Hamas did not to sign Egypt's reconcilation paper because there is a decision from Iran, Syria, or Turkey, or that Hamas does not want reconciliation because it is subjected to regional decisions."
"We keep our vow towards constants, we keep our vow towards unity, we keep our vow towards commitment to our people, we keep our vow toward openness to the world," concluded the leader.