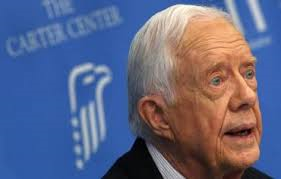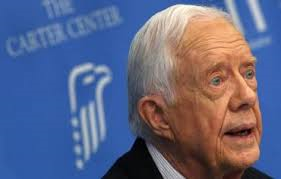 Hamas is a 'Legitimate Political Actor'
Former US president Jimmy Carter said in an op-ed Monday that in order for the Israel-Gaza status quo to change, the international community needs to recognize Hamas as a "legitimate political actor."
"Hamas cannot be wished away, nor will it cooperate in its own demise," an op-ed written by Carter and former Irish president Mary Robinson said.
"Only by recognizing its legitimacy as a political actor — one that represents a substantial portion of the Palestinian people — can the West begin to provide the right incentives for Hamas to lay down its weapons," the op-ed, published in Foreign Policy, said.
"Ever since the internationally monitored 2006 elections that brought Hamas to power in Palestine, the West's approach has manifestly contributed to the opposite result."
Carter and Robinson called for an "partial lifting" of the eight-year-old blockade on the Gaza Strip, and said an international force should be put into place to monitor border crossings.
The presence of an international force is also necessary to hold both sides accountable for ceasefire violations, they said.
The op-ed was also heavily critical of the Israeli army's handling of its offensive on Gaza.
"There is no humane or legal justification for the way the Israeli Defense Forces are conducting this war," the op-ed said.
"Hundreds of Palestinian noncombatants have been killed. Much of Gaza has lost access to water and electricity completely. This is a humanitarian catastrophe."
The op-ed also noted "unacceptable" actions by Hamas, but stressed that while Gaza militants have killed three civilians, the vast majority of the 1,875 Palestinians killed by Israeli forces throughout the assault have been civilians.
Both Carter and Robinson are members of the Elders, a non-governmental organization that describes itself as a group of "independent global leaders working together for peace and human rights."
Carter is among the most notable American public figures to criticize Israeli policy toward Palestinians. He is the author of "Peace Not Apartheid," a book for which he has earned praise for its frank speech about Israel and Palestine. Some key American figures, however, accuse him of being biased against Israel.