Palestine
Hamas: Israel will pay a heavy price for the assassination of Qassam Commanders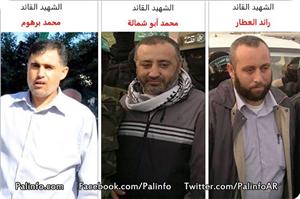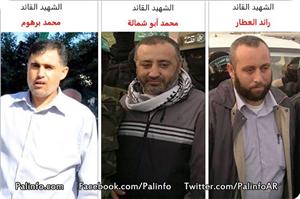 Hamas Movement said on Thursday that Israel will pay a heavy price for the assassination of three leaders of the Qassam Brigades, the armed wing of Hamas, in Rafah.
Spokesman for the Movement said that the assassination of Qassam leaders at dawn Thursday is a "big Israeli crime" that would not succeed in breaking the Palestinian people's resoluteness and resistance.
Qassam Brigades said on Thursday morning that Israel assassinated three of its senior commanders in the Gaza Strip. The Brigades identified the commanders as Mohammed Abu Shamallah, Raed al-Attar, and Mohammed Barhoum.
Seven others were also killed and 25 people were injured in the Israeli airstrike that targeted a house in the southern Gaza Strip town of Rafah.
Rafah Division commander Al-Attar, a father of two children, was on the top of Israel's wanted list. He was involved in the planning and commanded the operation to kidnap Israeli soldier Gilad Shalit, and other resistance operations against Israeli targets.
Al-Attar, 40, has participated in the two previous battles against the occupation in 2008/2009 and 2012. He was one of the architects of the tunnel project in the south of the Strip.
Yediot Aharanot accused al-Attar early August of capturing an Israeli soldier, saying that "commander of the Qassam Brigades in Rafah city Raed al-Attar is apparently the only person who knows the fate of the missing Israeli soldier Hadar Goldin."
Mohammed Abu Shamallah, 41, was the senior commander in southern Gaza. He spent 9 month is Israeli jails and 3 years in PA prisons.
He was also on the top of Israeli wanted list since 1991. He survived three assassination attempts. His home was bombed more than once by Israeli warplanes.
He was responsible for a number of resistance operations against Israeli military targets.
Mohammed Barhoum, 45, was on the same list since 1992. He was one of the founders of Hamas's elite unit and travelled to a number of countries.