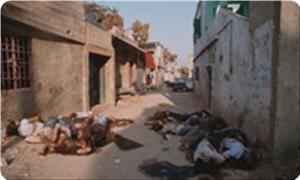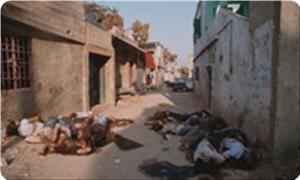 Hamas movement said that the Sabra and Shatila massacre, which took place 31 years ago, is a crime against humanity and will not be subject to a statute of limitations.
The movement championed in a statement on Tuesday more efforts to achieve national reconciliation within a unified struggle strategy that adopts the resistance as a way to retrieve the rights and defend the constants.
Hamas called for halting the negotiations and all forms of security coordination with the Israeli enemy, adding that the occupation is using the futile negotiations as a cover for its crimes against the Palestinian people, land and sanctities.
The statement marked the 31st anniversary of Sabra and Shatila massacre, which took place on the 17th of September in 1982; when the occupation and its agents committed a horrible massacre against unarmed civilians in the Sabra and Shatila camps in Beirut and killed nearly 5,000 people, including women, children, infants and elders.
Hamas said in its statement: "Thirty-one years have passed since this heinous massacre, yet the Israeli occupation continues its systematic crimes against our people, our land, Jerusalem and our holy places without being deterred or brought to account due to international silence. However, our people will not forget or forgive, and the Israeli war machine will not succeed in displacing or annihilating them".
The movement also stressed that it will always adhere to the Palestinian rights and constants and to the resistance as the way to confront the occupation and prevent its crimes and racist plans against the Palestinian people.
It called on the Arab League, the Organization of Islamic Cooperation and the countries hosting Palestinian refugees to shoulder their responsibilities by protecting the refugees and providing them with a decent life, until they are able to return to their homeland, from which they had been forcibly displaced.
It also called on the human rights and humanitarian organizations to file lawsuits in international forums to prosecute those responsible for the Sabra and Shatila massacre and other massacres against the Palestinian and the Arab peoples.