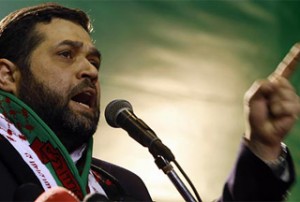 The Hamas' representative in Lebanon says two members of the movement were killed in an explosion that hit the southern suburbs of the Lebanese capital, Beirut.
In a Sunday press conference held in Beirut, Hamas member Osama Hamdan said that the movement was "not going to jump into conclusions" about the Saturday blast.
Hamdan went on to say that it was not known whether the blast was carried out by Israel, or whether it was a message to Lebanon's Hezbollah movement.
The Hamas official said that "two Hamas officials were in fact killed in the explosion," adding that the movement had launched and investigation into the assault.
The explosion, which killed 3 people in Beirut, came as Hezbollah was organizing a mourning ceremony to commemorate the martyrdom anniversary of Imam Hossein (PBUH), a grandson of Prophet Mohammad (PBUH).
Earlier reports said the victims have been members of the security services who were trying to defuse an explosive device planted in a car belonging to a high-ranking Hamas official based in Lebanon.