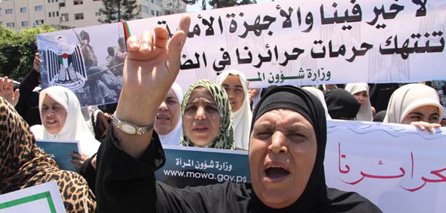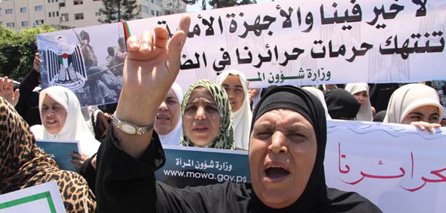 Hamas lawmakers from Salfit denounced Wednesday the Fatah party for taking in two West Bank women for questioning.
"It seems to be a new policy to humiliate (our) sisters. Dalal Jauhar was not the first to be summoned for investigation. The widow of Qassam Brigades martyr Abdullah Deik was summoned previously, as were many other sisters throughout the West Bank."
The victims were summoned upon their return from performing the hajj rituals in the holy lands, and were later humiliated with searches and called for questioning at the Salfit intelligence center.
"These measures are abnormal and strange, and only serve Israel, and are a factor in the fragmentation of the internal Palestinian social fabric."
In a related development, the Fatah authority arrested Wednesday three Hamas supporters from Al-Khalil, the West Bank, among them the son of detained lawmaker Nayif Al Rujoob, locals reported.
The West Bank authority apprehended the same day at least two of Hamas's people in the Nablus area. Moatasim Yousef Reihan, a brother of two Qassam martyrs who was recently arrested on several occasions, was abducted while watering trees in a rural area outside of the Nablus.