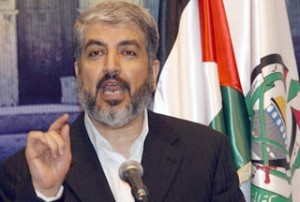 Hamas political leader Khaled Meshaal has declared 'unity and resistance' as the only ways to reach the goal of a free Palestine.
During an address at a Palestinian refugee camp in Syria, Meshaal said on Friday that years of negotiations with the Zionist enemy has proved that the decades-long conflict cannot be settled through talks and that "it is time to fight for our rights".
"Any leader who wants Al-Quds, the right of return for all Palestinians and our land back as well as ending Israeli settlement expansion should know that the path towards these objectives is not through negotiations but through resistance and national unity", Meshaal told Palestinian refugees at Yarmouk Camp on the 22nd anniversary of the founding of the Palestinian Islamic Jihad Movement.
He also called on Arab nations to accept the fact that Israel is seeking the interests of arrogant powers and is not pursuing peace and stability in the region.
The senior Hamas official also criticized the so-called US peace efforts in the region, saying that hopes of obtaining "our rights, which include regaining the land that Israel has occupied since 1967, through the mediation of the White House is an illusion" since Washington has never adopted an unbiased and fair stance towards the Palestinians.