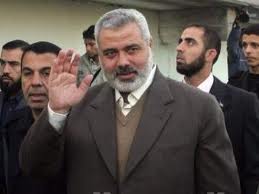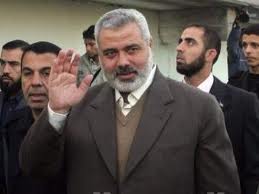 The Hamas prime minister in Gaza was due to travel to Cairo on Wednesday for talks with the Egyptian president, in the latest sign of improved relations between the two.
Ismail Haniyeh was crossing with a number of officials and was due to meet with former Muslim Brotherhood chief Mohammed Mursi, Maher Abu Sbaiha, the general director of the crossings authority in Gaza, told the Ma'an news agency.
It was not immediately clear when the two men would meet or what they would discuss.
Haniyeh's trip comes shortly after talks between Mursi and Hamas chief Khaled Mashaal earlier this month in which the latter hailed a "new era in Palestine's relationship with Egypt."
The founding of Hamas was inspired by Mursi's Muslim Brotherhood – Egypt's oldest and most established Islamist movement – but the Palestinian group now operates independently because of its location and the conflict with Israel.
Improved relations between the two Islamist groups is likely to aggravate Israel, which has repeatedly refused to negotiate with Hamas despite their democratic victory in Gaza in 2006.
Hamas refuses to recognize Israel and calls for the liberation of Palestinian land.
The party was isolated by Egypt under Mursi's ousted predecessor Hosni Mubarak, as well as by other Gulf and Arab states and the West.