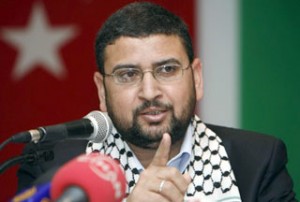 The Islamic Resistance Movement of Hamas has said US President Barack Obama did not deserve to win the Nobel Peace Prize.
"Obama has a long way to go still and lots of work to do before he can deserve a reward," said Hamas spokesman, Samir Abu Zuhri on Friday.
According to Abu Zuhri, the US president has only made promises and has failed to make any tangible contributions to world peace.
"He did not do anything for the Palestinians except make promises," he went on to say.
"At the same time, he is giving his absolute support for the (Israeli) occupation," he further explained, adding that Obama "has not done anything to ensure justice for the sake of Arab and Muslim causes."
The first African-American President of the United States was named a surprise winner of the prestigious Nobel Peace Prize on Friday.
The 48-year-old Obama is the third senior US Democrat to win the award this decade, after former president Jimmy Carter and former vice president Al Gore won the prize in 2002 and 2007 respectively.
He is also the third sitting US president to receive the Nobel Peace prize.
The prize, worth 10 million Swedish crowns ($1.4 million), will be handed over in Oslo on December 10.