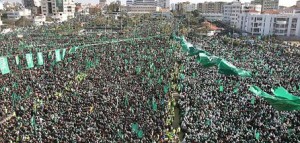 A spokesman for the Hamas movement says the administration of US President Barack Obama lacks credibility as a mediator in Israeli-Palestinian peace talks.
Speaking on Tuesday, senior Hamas spokesman Sami Abu Zuhri criticized President Obama's statement on the occasion of Nakba Day, saying the US leader's remarks only reaffirmed his administration's favoritism toward Israel.
Abu Zuhri also said that Washington was not fit to play the role of an "honest broker" in the peace process between Israel and Palestine.
"Obama's statement was a clear message to all Arab parties concerned with the peace process not to bet on the American role in this regard," he said.
President Obama issued a statement on Tuesday, reaffirming the United States' "unbreakable bond" with Israel, adding that Washington is confident the relationship "will only be strengthened" into the future.
Israel's establishment on May 14, 1948, which according to the Jewish calendar corresponds to April 20 this year, is called "al-Nakba" or the Day of National Catastrophe by Palestinians.
More than 700,000 Palestinians were expelled from their villages and towns and forced to live in refugee camps. This year marks the 62nd anniversary of Nakba Day.