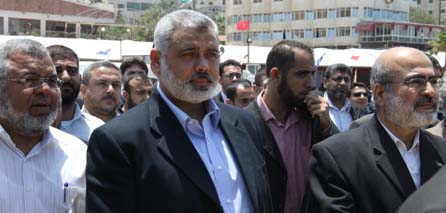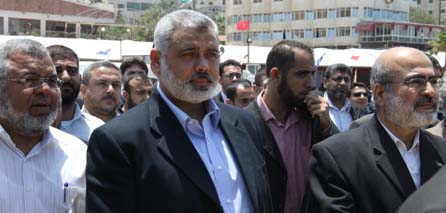 Gaza- Palestinian premier Ismail Haneyya has said that israel was against human rights and justice in the world.
Haneyya, speaking at a sit-in held in the Palestinian legislative council's yard in Gaza in solidarity with the detained PLC speaker Aziz Dweik and member Khaled Tafesh on Saturday, said that the PLC posed as one the bastions of Palestinian steadfastness.
The sit-in was attended by ministers, MPs, leaders of national and Islamic forces, and representatives of the Algerian convoy to Gaza.
Haneyya said that israel's targeting of the PLC indicates that it plays an important role in the struggle with the "zionist occupation".
For his part, Dr. Ahmed Bahar, the deputy PLC speaker, described the arrest of Dweik as a "political crime".
"Such a savage manner of detention exposed the zionist piracy before the entire world," he added.