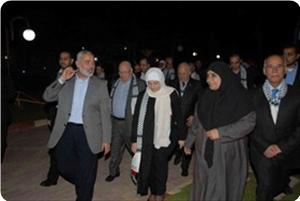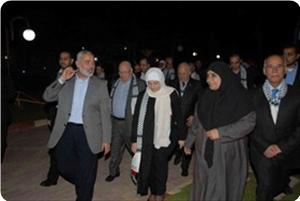 Palestinian premier Ismail Haneyya met in Gaza on Monday night Lebanese MP Bahiya Al-Hariri, who was heading a delegation on a visit to the Strip.
Haneyya appreciated Lebanese positions in support of the Palestine cause, and renewed insistence on the Palestinian refugees' right of return to their homeland.
For her part, Hariri said that her visit was to display solidarity with the Gaza Strip and the Palestinian people.
She said that Lebanon had paid a heavy price for its supportive stands vis-à-vis the Palestine cause, and called for Arab and international initiatives to support the Palestinian women.
Hariri visited the headquarters of the Palestinian legislative council and said she carried a message of support from leader of the Future movement in Lebanon Saad Al-Hariri.
The MP said she followed up the latest Israeli aggression on Gaza that killed a lot of innocent people, recalling that a similar Israeli war on Lebanon in 2006 killed women, children, aged people, journalists, and destroyed Beirut.