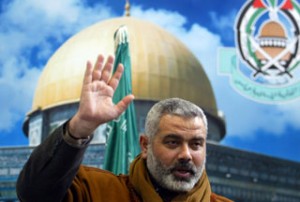 The Palestinian Prime Minister says that the Arab League decision to back the US-sponsored talks with Israel accelerated Tel Aviv's settlement drive in Jerusalem (Al-Quds).
"The decision encouraged Zionists to push ahead their settlement expansion in the West Bank. Israeli plan to build hundreds of homes whilst the US Vice President Joe Biden is on a visit to the region truly shows American cover to such a settlement plan," Ismail Haniyeh said on Wednesday.
The senior Hamas official also called on Arab nations and the Ramallah-based Palestinian Authority not to move forward with the proposed peace talks. He said they should instead attempt to bring Palestinians together and support Palestinian resistance against "the Zionist occupation."
However, the Arab League withdrew its support for indirect talks between the two sides on Wednesday due to the recent Israeli declaration on new settlement activities in al-Quds. A final decision is expected from the Arab foreign ministers amid concerns that they are heavily influenced by the US, the chief sponsor of Israel and the so-called Middle East peace talks.
Israel's Interior Ministry on Tuesday said it had approved the construction of 1,600 new housing units in Ramat Shlomo neighborhood in the mainly Arab eastern section of al-Quds.
The announcement sparked swift condemnation from Britain, China, Lebanon, Russia, Turkey, the United States and a number of other countries.