Palestine
Middle East
Haniyeh: If Zionist Enemy Doesn't Back Off, Palestinian Resistance Will Have Its Say
Head of Hamas politburo, Ismail Haniyeh, stressed on Monday that the Palestinian resistance is motivated and prepared and will have its say if the Israeli enemy does not put an end to its demonic plans.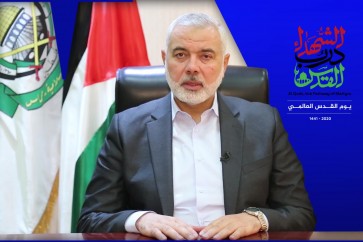 In a statement, Haniyeh clarified that he will continue mobilizing the political, diplomatic, media and humanitarian support to Al-Quds in order ro sustain its steadfastness, adding that he told all the parties he had contacted that the Israeli enemy does not keep its commitments.
Hamas Movement Chief reiterated that the Palestinian resistance will escalate confrontation with the Israeli enemy in order to prevent it from achieving its goals "which are also rejected by the Palestinian people".