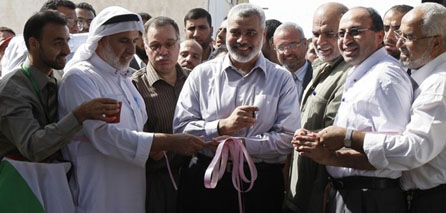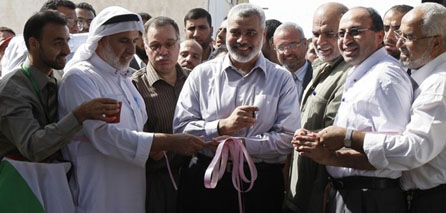 Gaza government Prime Minister Ismail Haniyeh said Saturday that Israeli threats to launch a new offensive on the Strip were psychological warfare, but that he did not think a new attack was approaching.
Speaking at a mass wedding for those injured in the last war on Gaza, Haniyeh said threats of war could not harm Palestinians' spirits or ability to survive. The wedding party was evidence of that, he said.
Haniyeh's comments echoed earlier remarks by Hamas leader Ismail Radwan, who said statements by senior Israeli army officials threatening a new war on Gaza were propaganda to be consumed by local media for the benefit of Israelis.
Radwan added that the resistance movement in the Strip was ready to respond if Israel did attack Gaza. Such offensives did not break the resistance of Palestinians in the past, and they would not break or intimidate Palestinians now, he said.
Hamas official Salah Al-Bardawil however said Saturday that Israel was preparing to launch a new offensive on the Strip in order to disrupt reconciliation between Hamas and Fatah. The rival factions are said to be close to ending their division, and both parties have said security remains the only issue to be resolved before Hamas signs an Egyptian-mediated unity paper, which Fatah has already ratified.
Several high-ranking Israeli officers have made statements to the media recently warning of a repeat of Israel's last war on the coastal enclave, which left 1,400 Palestinians dead and thousands more injured. One senior officer, quoted in the Israeli daily Haaretz, said if another soldier was captured Israel's response would be no less severe than the December 2008 war. In September, commander Eyal Eisenberg warned that the next war on Gaza would be a "more painful, complex, and powerful round" in an interview with the Israeli news site Ynet.