Palestine
Haniyeh: Shalit Deal National Achievement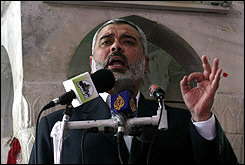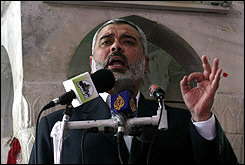 The Prime Minister of the Hamas government in Gaza told an anniversary rally on Thursday that the prisoner swap deal for a captured Israeli occupation soldier was a "national achievement".
At the anniversary celebrations, Ismail Haniyeh said the release of prisoners was not just a victory for the resistance fighters that took Shalit, but all Palestinians and Muslim nations.
The welfare of Palestinians imprisoned by Zionist entity is not a partisan issue, but concerns the whole nation, he said, stressing that prisoners are held because of their defense of all Palestinian people.
He called for a complete national strategy to free all Palestinians, based on ending the division between his government and the Fatah-dominated authority in the West Bank, Ma'an news agency reported.
A national program must defend the choice of resistance, and make prisoners a top priority, he said.
The spokesman of Hamas' armed wing, the al-Qassam Brigades, earlier on Thursday pledged further prisoner exchanges.
"This swap deal will not be the last. We will always act in order to secure the release of all detainees," Abu Obaida said.
On Thursday, Hamas led a mass march in the Gaza Strip to mark the anniversary of the prisoner exchange. Palestinians called on Hamas and other factions to capture more occupation soldiers to secure the release of more detainees.
The Oct. 2011 deal freed over 1,000 Palestinians from Zionists jail in exchange for Gilad Shalit, an occupation soldier captured in 2006 and held in Gaza.