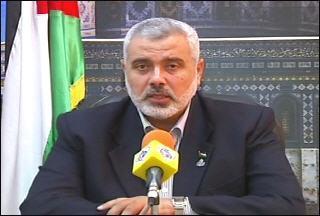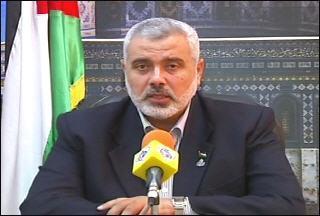 Palestinian Prime Minister Ismail Haniyeh has called for all Muslim and Arab nations to attend international Quds Day protests to show their solidarity in defending and liberating Palestinian occupied lands and holly Al-Quds.
In an interview with Al-Alam on Wednesday, Haniyeh slammed holding of an international Jews conference coincided with Quds Day, saying that the Zionists are seeking to raise Muslim nations' sentiments around the world.
He also described the conference as an illegal action violating the international laws and values.
He said the Zionist regime's attempts in holding such a faked conference could never change the real nature of Al-Quds as well as the Palestinians attitudes towards the occupied territories.
He also urged the Arab governments to hold several conferences to address such plots.
Referring to Israel's ongoing offensives in removing the Palestinians from their own lands, Haniyeh added that the Zionist regime has continued to expand its settlements in the West Bank and prevented worshippers from praying in Al-Aqsa mosque.
Initiated by the late founder of the Islamic Revolution in Iran, Imam Khomeini, the International Quds Day marks the last Friday of the holy month of Ramadan.