North America
Syria
Hasaka: Great Satan US Conducts Another Heliborne Operations to Rescue Foreign ISIL Commanders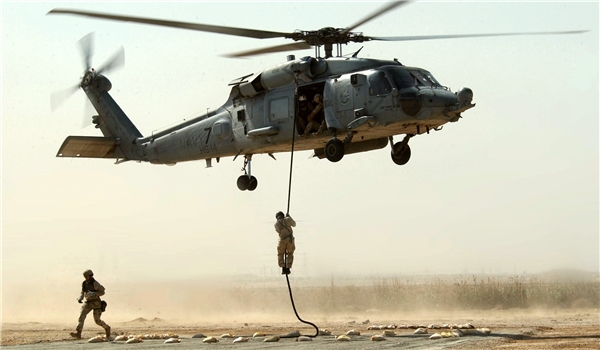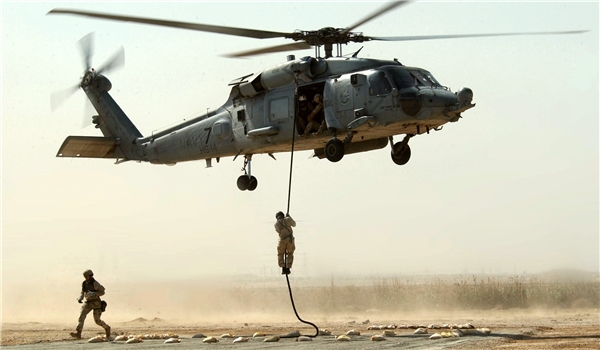 The US military forces continue illegal heliborne operations to rescue the ISIL terrorists and commanders from Southern Hasaka, local sources reported on Monday.
The sources in Southern Hasaka reported that the US forces have conducted another heliborne operation near the small town of Merkadeh the borders between Syria and Iraq.
The sources further said that two American helicopters left the town of al-Shadadi and landed in Merkadeh region, taking away two ISIL members.
The US-backed Syrian Democratic Forces (SDF) announced in a statement on Sunday that they had captured the remaining regions that were under ISIL's control and purge the province of ISIL.
In May, the US forces conducted four more airborne operations in Southeastern Hasaka to rescue a number of entrapped ISIL terrorists, a move done repeatedly by the American forces to provide back up for the terrorist group in Eastern Syria.
Four American military helicopters conducted four sorties of heliborne operations in the villages of al-Qeirawan, Haresat Sinjar, al-Ta'ef and aAbu Kabra, evacuating a group of ISIL terrorists to an unknown location.
The US military forces are carrying out airborne operation in ISIL-held regions once in a while.
In the same month, Russia's airbase in Lattakia province, known as Humeimim, complained that Washington supported the ISIL terrorists through the US-backed Syrian Democratic Forces, as the SDF continues pressures against civilians in Deir Ezzur.
Humeimim announced that it gained field reports disclosing that Washington is indirectly supporting and equipping the ISIL terrorists.
It added that Washington supports the ISIL through its illegally created allies, the SDF forces, who pursued disintegration of Syria.
Meantime, local sources in Deir Ezzur reported that the SDF forces detained tens of civilians in the province, including women, children and the elderly, en route from Damascus to the region and prevented their move to the province.