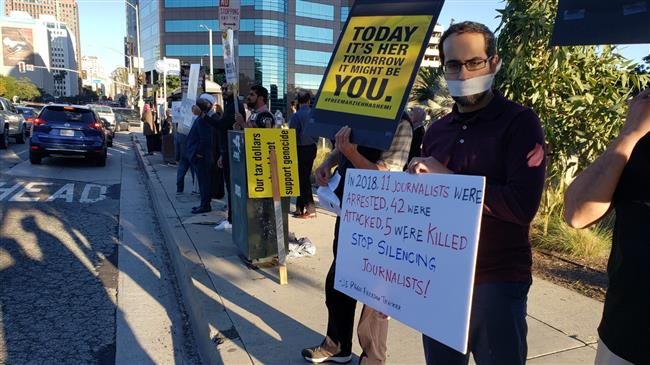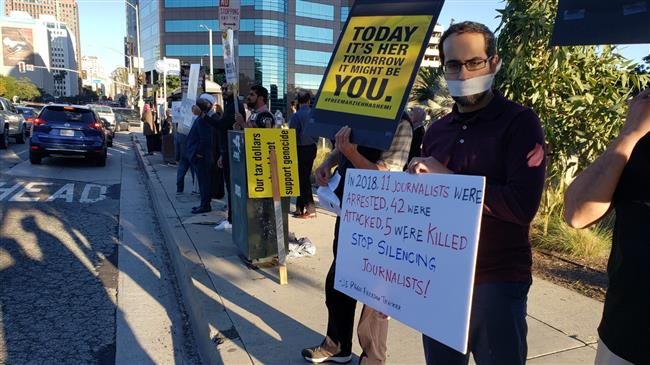 People have held rallies in several countries, including the United States, Canada, the UK and Pakistan against the US justice system after the eleven-day imprisonment of Press TV anchor Marzieh Hashemi.
Protesters in Los Angeles, Toronto, London and Karachi on Friday condemned the detention of the African-American journalist, slamming mistreatment of the people of color in America.
Hashemi, an American-born Muslim convert who has been living in Iran for years, was detained at St. Louis Lambert International Airport in Missouri on January 13 while in the US to visit her ill brother and other family members.
She was transferred by the FBI to a detention facility in Washington DC, where she was forced to remove her hijab, covering for women under the Islamic law. She was also only offered food not permissible under the law.
After days of silence, the US government confirmed last Friday that it was holding Hashemi in jail as a "material witness". She was released her detention without charge on Wednesday and joined her family in Washington DC.
During the Los Angeles protest, a female Muslim lawyer said, "What the material witness law means is that if the government wants you to come to testify during an investigation, and it has any reason to think that you might not show up, they can detain you even if you've done nothing wrong."
She also protested Hashemi's prolonged detention, saying, "We have laws that say that if you are someone who's being held because they think you've done something wrong, they only have 72 hours to charge you with a crime."
Rallies were held earlier in Washington, D.C., New York, London, and Melbourne to underscore the injustice exercised towards Hashemi.
Hashemi spoke to Press TV about her experience after her release, saying she is resolved to prevent others from being subjected to such mistreatment by the US justice system.
She said while she had long been "harassed" by American security officers during her previous trips to her homeland, the detention took everything to a "whole new level."
"I will speak out until my last breath always," she noted. "They came for me last week. Tomorrow, who are they going to go to? Who are they going to pick up? When are you going to say enough is enough? And I have to stand up for what is right no matter the cost," she added.