Europe
Iran
Middle East
Hatemonger UK ambassador leaves Tehran 'with prior notice' following arrest drama
Britain's Ambassador to Iran Robert Macaire has left Tehran for London a few days after his brief detention at the site of an illegal protest rally in the capital city.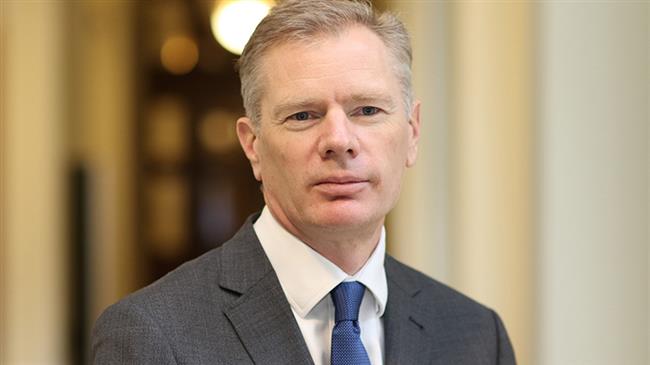 According to Iranian media, Macaire's departure has taken place with prior notice and based on diplomatic protocol.
Iranian police detained Macaire but released him 15 minutes later following contacts with Foreign Ministry officials. The detention came after the UK envoy was spotted at the site of an unauthorized protest in Tehran over the recent downing of a Ukrainian passenger plane that killed all 176 on board.
Iranian officials initially attributed the crash to technical problems but later confirmed that the jetliner had been accidentally shot down by the country's air defense system.
The delay in announcement gave rise to public anger and some used the vigil ceremonies held for the airliner's victims outside several universities in Tehran as an opportunity to chant anti-establishment slogans.
The UK ambassador was detained at one of those sites.
The incident caused much media uproar and drew criticism from Iranian officials and groups of protesters who were angered by a foreign ambassador's interference in the country's affairs. 
The next day, Iran's Foreign Ministry summoned the British ambassador to protest his unconventional behavior, arguing that it ran counter to the 1961 Vienna Convention on Diplomatic Relations.
Iran summons British ambassador over 'unconventional behavior,' attending 'illegal' rallyThe British ambassador was told that the UK government should give an explanation for the incident.
The Iranian Judiciary referred to Macaire as "persona non grata" and demanded that the ambassador be expelled over his unacceptable conduct, but noted that the final decision on the matter rested with the Foreign Ministry.
"The fact that the UK ambassador to the Islamic Republic attends an illegal gathering, takes photos and videos of the event and plays a provocative role is totally unacceptable," Gholam-Hossein Esmaili, the Judiciary's spokesman, said during a press briefing on Tuesday.
Some media reports have cited Britain's Foreign Office as saying that Macaire's trip to London is "routine, business as usual" and that it had been planned prior to his arrest in Tehran, adding the envoy will return to Iran.