Iran
Headquarters for Executing Order of Imam Produces 5mln Masks Daily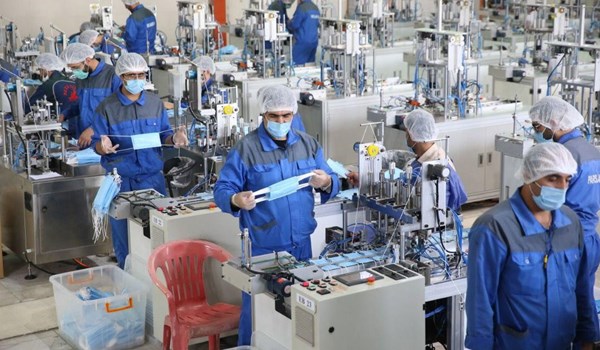 The Headquarters for Executing the Order of Imam (Khomeini) in Iran has increased its capacity to produce anti-coronavirus masks to 5mln in a day.
"The number of mask-producing machines has increased from 21 to 48 and the capacity to produce hygienic 3-layerred masks was boosted from 3mln to 5mln," said Seyed Mostafa Hashemi, the deputy head of the Headquarters for Executing the Order of Imam, on Wednesday.
He added that the potentials of the knowledge-based companies have been used to heighten the quality of the masks, and said the Headquarters has enhanced the quality of its N95 masks to N99.
Head of the Headquarters for Executing the Order of Imam Mohammad Mokhber had also announced in July that the country's researchers have tested the home-made anti-COVID-19 virus vaccine on animals with successful results.
"The Iran-made vaccine produced by our colleagues at the Headquarters has successfully passed the animal tests and now we are preparing for tests on humans after receiving license from the health ministry," Mokhber told reporters.
He also said that Remdesivir – a drug believed to be of help in fighting the coronavirus – has been produced by the Headquarters at a lower price than its foreign version and distributed in the market and will be mass-produced upon a request of the Iranian health ministry.