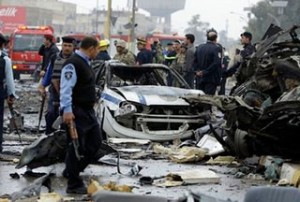 At least four civilians have been killed and more than 20 others wounded in a powerful blast caused by a car bomb near a hotel in a diplomatic district in Kabul.
The explosion occurred after a car bomber detonated his vehicle in the center of Kabul outside the Heetal Hotel, a small hotel frequently used by foreigners, Press TV reporter said.
Gen. Mohammad Zahir Azimi, a spokesman for the Defense Ministry, confirmed the bomber attack in the Wazir Akbar Khan district, which is home to government officials, international organizations and diplomatic residences.
Security officials said the blast happened near the Heetal Hotel in Kabul's Wazir Akbar Khan, shattering windows of nearby buildings and killing at least four civilians.
Buildings shook and windows rattled hundreds of meters from the blast site. Thick black smoke could be seen above the district.
Emergency vehicles and ambulances have sped to the scene.