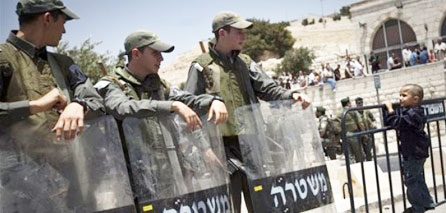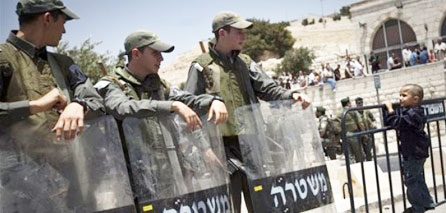 Hundreds of Israeli border police and security officials were deployed in occupied East Jerusalem Thursday night, witnesses said, with more hundreds more observed arriving in the area Friday morning, witnesses said.
As Palestinians from the West Bank, Jerusalem and cities inside Israel make their way to the Haram Ash-Sharif (Noble Sanctuary which houses the Al-Aqsa Mosque) to pray on the first Friday of the Holy Month of Ramadan, travel to the area was significantly restricted.
Israeli forces held a heavy presence outside the Old City, with others lining the streets of the ancient quarters, barring some Muslims from entry to the area.
From the West Bank, men over the age of 50 were permitted to cross checkpoints without a permit, and women over the age of 45 were also allowed to pass. Young men and women were prohibited from accessing the holy city for prayer, while those between 30-45 could apply for a special permit to enter the city.
Thousands crowded near the Bethlehem checkpoint from the southern West Bank, with hours-long waits expected for most. Witnesses reported the installation to two stations manned by Palestinian Authority police, who were described as directing traffic, enforcing restricted parking laws, and making the movement of people easier than in previous years.
Palestinian sources were reported to be approximately 300 meters away from the checkpoint.