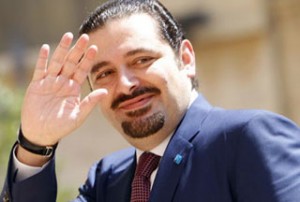 Lebanese Prime Minister Saad Hariri concluded on Thursday a two-day official visit to Cairo by holding a meeting with Egyptian President Hosni Mubarak, a day after he declared from the Egyptian capital that Hezbollah is a partner in the Lebanese national-unity government.
Lebanon's PM arrived in Cairo on Wednesday on his first official visit to Egypt. He was accompanied by Foreign Minister Ali Shami, Economy Minister Mohammad Safadi, Information Minister Tarek Mitri and other officials. He was also accompanied for the first time by his wife Lara, who lives in Saudi Arabia with the couple's three children.
"Threatening any part of Lebanon is a threat against its government which will act on this basis," Hariri warned following his meeting with the Egyptian President. He said that there would be a unified Arab stance towards the Israeli threats.
One day earlier, Hariri held a round of talks with his Egyptian counterpart and other officials.
At a news conference in Cairo, Hariri said the so-called Hezbollah cell is an Egyptian issue. "The issue of the Hezbollah cell is an Egyptian judiciary matter, and we reject foreign intervention in Egyptian affairs," he stressed.
"Hezbollah is part of the political forces that emerged as a result of parliamentary elections," Hariri said at the same time. Hezbollah "is a partner in the government of national unity," he emphasized.
Hariri's visit comes after trips to France and Turkey earlier this month and after his landmark December trip to Syria.
Commenting on Hariri's state visit to Egypt, Egyptian Foreign Minister Ahmad Abu al-Gheit told reporters in Paris that talks would focus on promoting mutual cooperation. He also condemned recent Israeli threats against Lebanon. "We are against any act which would be unjustified and unacceptable," he said.