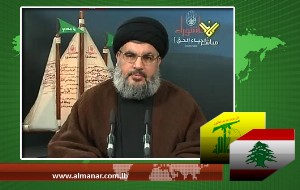 Hezbollah Secretary General Seyyed Hassan Nasrallah has hailed the Lebanese prime minister's visit to Syria, calling it a practical step to open up 'new horizons' in ties between the two Arab neighbors.
"The important and historic visit helps make the atmosphere comfortable between the two countries. It will also help prevent any Shia-Sunni strife," Nasrallah's office said in a statement late on Saturday.
Lebanese Prime Minister Saad al-Hariri met Syrian President Bashar al-Assad in Damascus on Saturday for talks to end nearly five years of animosity between Damascus and Hariri's March 14 alliance.
His visit opened a new chapter in relations between the countries, which have been characterized by upheaval and suspicion for decades.
"We want to open new horizons between the two countries. The three rounds of excellent talks with the Syrian leader were frank and based on clarity.
"There will be serious steps from our side and on the part of President Bashar al-Assad to translate this cordial and serious relationship into steps on the ground in several fields," Hariri told reporters at a press conference at the Lebanese Embassy in Damascus.
Beirut's relations with Damascus hit rock bottom following the 2005 assassination of Hariri's father, former Lebanese prime minister Rafiq al-Hariri, and the withdrawal of Syrian troops from Lebanon that followed.
The two Arab neighbors established diplomatic ties for the first time last year, with Syria opening an embassy in Beirut, while Lebanon sent an ambassador to Damascus.
Lebanese analysts say an improvement of ties with Damascus would bridge the political divide in Lebanon, ease sectarian tensions, and provide Hariri with the necessary authority to push through long-delayed economic and other reforms.