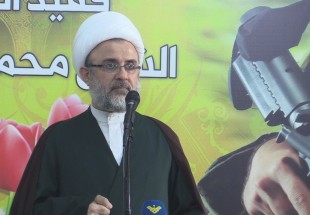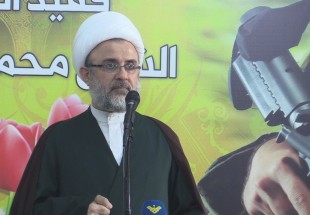 Speaking at a ground-breaking ceremony for the Ahlul-Bayt Husayniyah in the southern Lebanese village of Blida, Hujjat al-Islam Nabil Qawouq, a member of the Central Council of the Islamic Resistance group, Hezbollah, stressed that building walls, flyovers by naval warplanes and military maneuvers by Israel and other regional countries near the borders with occupied Palestine would not scare the Lebanese people, but rather, such measures would be counterproductive because they prove and increase the fear and terror of the settlers.
According to Rasa, the Lebanese Shi'ah cleric said that the Israeli enemy was betting on the preoccupation and depletion of the Islamic Resistance in the Syrian crisis, but six years after this crisis began, it has been discovered that such measures only increased the military, political and popular power of the Islamic Resistance.
Referring to Lebanese affairs, Hujjat al-Islam Qawouq added, "No internal or external issue will be affected by the Syrian crisis and the issue of our parliamentary elections will not cause us to neglect the developments in the region."
"The Lebanese people are aware, vigilant and by carefully monitoring the events of the region, they fight the Israeli enemy and any Takfiri threat," he added.
The member of Hezbollah's Central Council stated, "Although Daesh is on the verge of destruction and the Takfiri project is facing defeat, the danger of the Takfiri phenomenon remains, especially in areas such as Baalbek, which is still occupied by Takfiris."
Referring to the presence of Hezbollah in Syria, Hujjat al-Islam Qawouq stated that if Hezbollah didn't fight with against the Takfiri enemies in Syria and Iraq, "today, we would have seen Daesh appear on Lebanese territory."
The renowned cleric and said, "The self-sacrificing sons of the Islamic Resistance in Syria managed to keep Lebanon safe."
Hujjat al-Islam Qawouq stressed that failure has no meaning in maintaining the territorial integrity, peace and security of Lebanon and added, "The time has come to fight the Takfiri terrorist groups in Ras Baalbek and Arsal. With the support of the people, Hezbollah and the army will fight against their biggest threat, Israel."