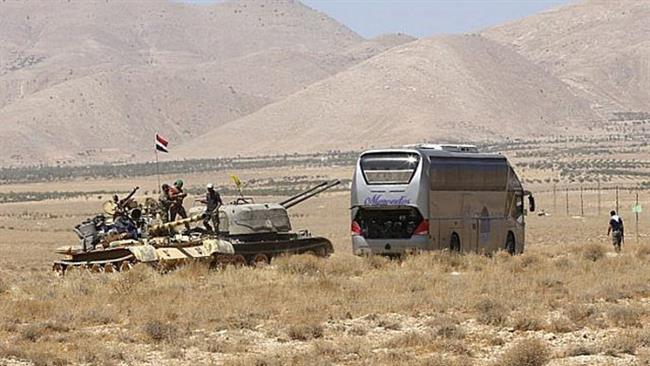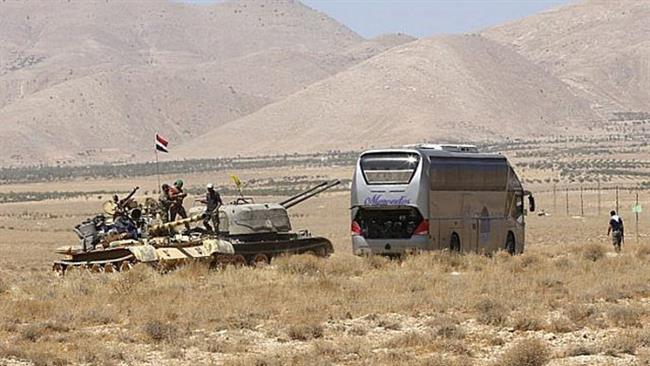 The Lebanese Hezbollah resistance movement has accused the US of hampering an evacuation deal with the Daesh terrorist group.
According to Hezbollah on Saturday, US-led forces have stranded most of the convoy's 17 buses in the Syrian desert by destroying the road to Dayr al-Zawr.
"They are also preventing anyone from reaching them even to provide humanitarian assistance to families, the sick and wounded and the elderly," said a statement released by the resistance movement.
Last week, the Syrian government agreed to the deal between Hezbollah and Daesh Takfiri terrorists, which allows the transfer of the latter from the strategic and mountainous region of Qalamoun close to the border with Lebanon to eastern Syria.
The deal has been criticized by Washington and some government officials in Iraq as the terrorists are being transferred close to the Iraqi border.
The US-led coalition, allegedly battling terrorism in Syria, released a statement stating that "the coalition will not condone Daesh fighters moving further east to the Iraqi border."
"The coalition values human life and has offered suggestions on a course of action to save the women and children from any further suffering as a result of the Syrian government's agreement," it noted.
It noted it would not hit the convoy directly but would target Daesh terrorists and vehicles "seeking to facilitate the movement of Daesh fighters to the border area of our Iraqi partners."
On August 19, Hezbollah and the Syrian army launched an operation to purge Daesh from Qalamoun, located about 330 kilometers (205 miles) north of the Syrian capital Damascus.
Hezbollah also launched a major push on July 21 to clear both sides of Lebanon's border with Syria of "armed terrorists."
In August 2014, the Jabhat Fateh al-Sham and Daesh terrorist groups overran Arsal, killing a number of Lebanese forces. They took 30 soldiers hostage, most of whom have been released.
Since then, Hezbollah and the Lebanese military have been defending Lebanon on the country's northeastern frontier against foreign-backed terrorist groups from neighboring Syria.
Hezbollah fighters have fended off several Daesh attacks inside Lebanon. They have also been providing assistance to Syrian army forces to counter the ongoing foreign-sponsored militancy.