Hassan Nasrallah
Lebanon
Middle East
Hezbollah video shows zionist regime's military bases across occupied lands for 1st time after Nasrallah' warning
Lebanon's Hezbollah resistance movement has for the first time released a video showing the bases belonging to the Israeli army in different cities across the occupied territories.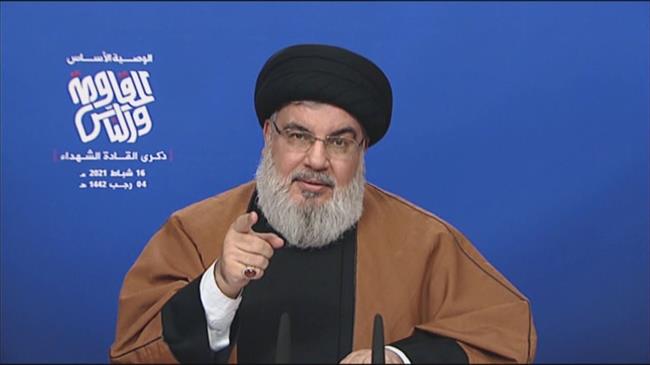 The footage, published on Wednesday by the media bureau of Lebanon's Hezbollah resistance movement, has gone viral on social media.
It is entitled, "O Zionists, you have military and security targets inside your cities."
The video was released one day after Hezbollah Secretary General Sayyed Hassan Nasrallah warned the Tel Aviv regime not to play with fire, saying any Israeli act of aggression against Lebanon will be met by a strong response from the resistance group.
"Israel has never committed itself to international law, [the regime has] destroyed cities and killed civilians in all its wars," he said in a televised speech.
"We are not looking for a confrontation but we do not forget the blood of our martyrs," he underlined. "If a confrontation happens we will respond to it; if you attack our cities we will attack yours; if you target our villages, we will bomb your settlements."
Hezbollah was established following the 1982 Israeli invasion and occupation of southern Lebanon. Since then, the popular resistance movement has grown into a powerful military force.
Lebanon fought off two Israeli wars in 2000 and 2006. On both occasions, battleground contribution by Hezbollah proved an indispensable asset, forcing the Israeli military into a retreat and shattering the myth of the occupying entity's invincibility.
Lebanon and Israel are technically at war because the latter has kept the Arab country's Shebaa Farms under occupation since 1967.
Hezbollah has on many occasions expressed its full readiness for confrontation in case the Zionist regime opts to launch any act of aggression against Lebanon.