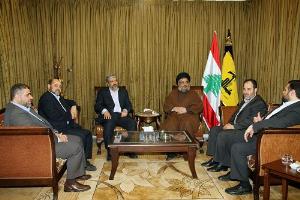 Hezbollah Secretary General Seyyed Hassan Nasrallah says he is confident that any new conflict with Israel would see the Lebanese resistance movement emerge victorious and change the face of the Middle East region.
"I promise you, in view of all the threats you hear today… that should a new war with the Zionists erupt, we will crush the enemy, come out victorious, and change the face of the region," he said in Beirut on Friday.
"The future of this region is the resistance, dignity, and freedom. God willing, Israel, the occupation, hegemony, and arrogance are in the process of disappearing," Nasrallah stated.
Nasrallah said that Israel was again beating the drums of war to try to restore its military's reputation as an invincible regional force.
In July 2006, Hezbollah resistance forces fired on an Israeli patrol in the border area, killing three Israeli soldiers and capturing two of them. Israel responded by bombarding parts of southern and eastern Lebanon, then widened the bombing campaign to cover most of Lebanon in what became a 33-day all-out war between Hezbollah and Israel. Hezbollah retaliated with intense, daily missile barrages that hit northern Israel and as far south as Haifa.
Then Israeli prime minister Ehud Olmert vowed to destroy Hezbollah's military capacity. Hezbollah pledged not to halt its barrage until Israel ceased its operations, which included widespread incursions into south Lebanon.
It was not until August 14 that a cease-fired brokered by the United Nations ended hostilities. About 1,000 people, mostly Lebanese civilians, were killed, and 1 million Lebanese civilians and some 300,000 to 400,000 Israelis were temporarily displaced. Both Lebanon and Israel's economies suffered, although Lebanon's suffered far more since much of its infrastructure — roads, bridges, and electricity and water plants — was damaged by Israel's bombing campaign.