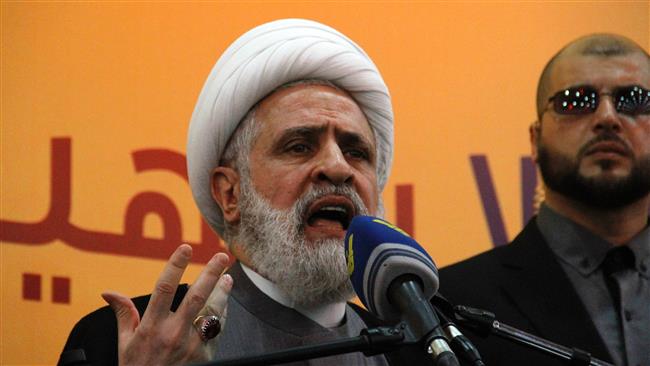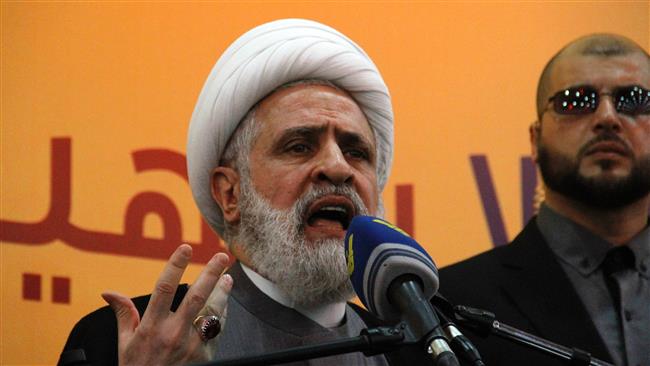 A senior Hezbollah official said the resistance movement will never abandon Lebanon for others to push it into chaos, stressing that "the country and the resistance walk together."
"We say no to those who believe we will focus on resistance and leave domestic matters to them," Hezbollah Deputy Secretary General Sheikh Naeem Qassem said on Thursday.
"The country and the resistance walk together, and we will not leave this country for others to mess with it, rather we want to be partners in building this country," the official added.
On Wednesday, Hezbollah chief Sayyed Hasan Nasrallah said certain groups were seeking to monopolize power in Lebanon.
Hezbollah is currently helping the Syrian government drive out foreign-backed Takfiri terrorists from the country.
In doing so, the movement says it is trying to prevent the Syrian conflict from spilling over to Lebanon and keep Takfiri terrorists at bay.
Daesh and al-Nusra Front terrorists have been active on the outskirts of the Lebanese town of Arsal, located on the border with Syria.
The militants briefly overran Arsal in August 2014, taking several Lebanese army and police forces hostage, some of whom were executed. Nine soldiers are still being held after being captured almost two years ago.
Hezbollah swept to remarkable gains in municipal elections in in south Lebanon and Nabatieh on Sunday.
Sheikh Qassem expressed relief over the polls, saying they "complete the resistance project."
The official hailed the alliance between Hezbollah and Amal movement "which enabled [the two parties] to be sponsors to families, different political forces, and to the parties in the region… easing tension and producing a capable council that works in harmony."
Suspicious death in prison 
Meanwhile, a senior cleric in southern Lebanon on Friday called for calm following the death of a suspected militant in the Roumieh prison.
Sheikh Hussam al-Ilani, the imam at Ghufran Mosque in Sidon, said Fadi Akkoush's death should not be exploited for those who speak of "defending the rights of the Sunni people."
According to security sources, Akkoush suffered from heart disease and died Wednesday night. He had been detained in connection with the 2014 Bhanine battles in the northern district of Minyeh.
Inmates launched a protest Thursday and accused security forces of negligence, a claim officials have denied.
Akkouch was allegedly a supporter of extremist preacher Sheikh Khaled Hoblos, who was arrested in April during a police operation in Tripoli. Investigation into Hoblos uncovered dormant cells in north Lebanon.
Sheikh Ilani warned of what he called "quick, irrational and impulsive reactions," calling instead for Sunni authorities to follow up on the issue.
"His issue of his death should be solved through an investigative panel which will release a comprehensive statement…What is needed is for people to act wisely," Ilani said in a statement.