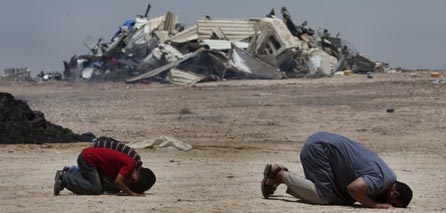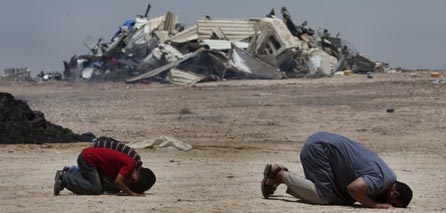 The Higher Follow-Up Committee for the Arab Masses inside the Green Line Area (GLA) decided on Tuesday 27 in an emergency meeting to take reaction measures against the Israeli destruction tool and those who stand behind it. Therefore the most notable decision made was to rebuild the demolished houses of Arakib.
After the demolishing process hundreds of locals gathered in the demolished village of Al-Arakib to protest against the barbaric demolition policy, which affected all the houses of the village, and displaced the elderly, children and women.
The main decisions that came out of the meeting are as follow:
1. To rebuild the houses again in order to house the elderly, children and women.
2. To form a special committee to pursue this decision by the Higher Follow-Up Committee.
3. Seek to provide financial support in an attempt to embody and implement the construction made decision.
4. To send a denouncement petition to the various government departments including the Prime Minister's Office.
5. To send a petition to international bodies to explain the suffering of the Arab masses in general and the suffering of the Arab residents of the Negev in particular.
6. To hold a Friday prayer on the land of the village followed by a sit-in.
7. The sub-commission protruded from the meeting has to meet occasionally in order to implement and pursue the decisions made.
8. Further practical steps will be examined and a structured program will be developed to follow up the issues of construction in the Al-arakib and the Negev in general.