Lebanon
Middle East
History of Gaega's Lebanese Forces Militia is Full of Criminality: Sheikh Qassem
Hezbollah Deputy Secretary General Sheikh Naim Qassem stressed that the history of the Lebanese forces militia is full of criminality, adding that the Resistance Party will not allow it to stir a sedition which will cause a civil war.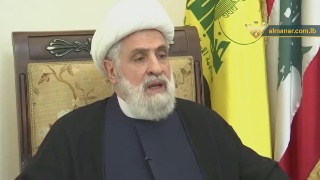 Sheikh Qassem added that the Resistance aims at liberating the occupied lands, fighting the enemy and protecting the national sovereignty, not engaging in internal wars, noting that Hezbollah extinguished the sedition stirred by the Lebanese Forces militia in Tayouneh.
His eminence also indicated that Hezbollah supports the economic recovery plan of the Lebanese government in order to achieve the economic balance in the country.
Sheikhg Qassem also emphasized that the upcoming parliamentary elections will be an important chance for the Lebanese people to express their opinions, adding that Hezbollah started preparing for the elections 4 months ago.
Seven martyrs and around 30 injured were reported during the armed attack carried out by the "Lebanese Forces" militiamen on the peaceful protestors in Tayouneh area on Thursday, October 14. The protesters were demonstrating against the politicized decisions of the judicial investigator into Beirut blast, Tarek Al-Bitar.
On August 4, 2020, a massive blast rocked Beirut Port blast, killing around 195 citizens and injuring over 6000 of others. The explosion also caused much destruction in the capital and its suburbs.
For his part, Deputy Chief of Hezbollah Executive Council Sheikh Ali Daamoush called for approving a realistic state budget that takes into consideration the people's rights, adding that Hezbollah will continue assuming its responsibilities pertaining securing the socioeconomic needs of the Lebanese people.