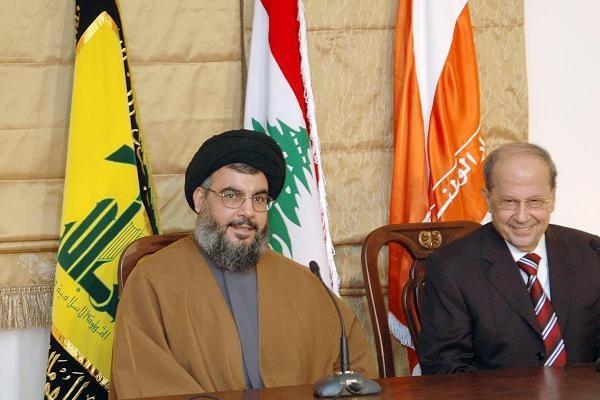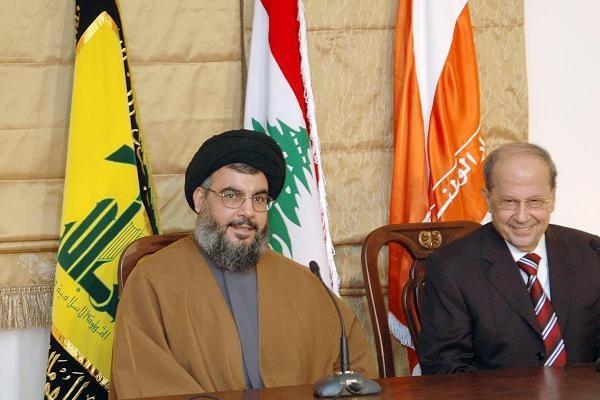 The memorandum of understanding between Hizbullah and the Free Patriotic Movement marked a distinctive particularity in the history of Lebanese politics. Both parties reached a common agreement to redeem hope in achieving objective civil peace based on clear and fixed principles. This agreement had produced a tight bond between the two parties, easing sectarian speech instigated by US and Western allies in Lebanon.

This memorandum was counted as a positive surprise to domestic life, because of its historic and local symbolism. The memorandum was signed in the meeting between Hizbullah's Secretary General His Eminence Sayyed Hassan Nasrallah and the Head of the Free Patriotic Movement, MP General Michele Aoun in St. Michael Church, where the most violent clashes had occurred during the civil war (1975-1990).

The date of signing the agreement, February 6 2006, followed a day of tension in al-Ashrafieh (East Beirut), where Salafist groups attacked the area under March 14 cover.
Over the years, the understanding developed a tight relationship between Hizbullah and the FPM, at a time where Hizbullah witnessed numerous slandering campaigns like no other. Up until today, opponents still bid on the memorandum to annul, and cooperation between the two parties to break.
However, matters were not in March 14's favor; the understanding became steadfast and it formed a government that March 14 did not believe would exist without.
MP Garios: Relation between Hizbullah and FPM Vital, Locked, Continuous
Moreover, member of "Change and Reform" Bloc, MP Naji Garios reiterated, "The Hizbullah-FPM relationship is imperative, fixed, sturdy, and continuous."
He further assured that nobody could weaken it since it reached the mutual community."
In an interview with al-Ahed News website, Garios pointed out, "The distinctiveness of this understanding is that it is based on true systematic principles and seeks to build a nation, and the proof is that Lebanon went through domestic security and political instabilities and differences between Lebanese, and still this understanding survived."
"The Understanding between the FPM and Hizbullah is not circumstantial and is built upon stages. We had demanded parties to join this memorandum to become a comprehensive national agreement, especially that the agreement took place between two wise men," he stressed.
"Many incidents happened among Muslims and between Muslims and Christians, and did not lead to secession with the Arsal incident as proof, because whoever made this understanding knew the country would witness grave unrests," the MP underscored.
Garios further stated, "Whoever sought to separate parties of the memorandum of understanding did not and will not succeed, because it reached the community and the popular base."
Saheli: Nothing to Threaten The Understanding 
For his part, member of Loyalty to the Resistance Bloc MP Nawwar Saheli stressed "the importance of the understanding between Hizbullah and the FPM as a historic understanding."
Speaking to al-Ahed News website, Saheli considered that "this day is historic, since February 6 2006 is the day where sectarian secession ended in Lebanon, where it is defined as a fertile country for Muslim-Christian differences."
He added that sectarian difference was buried "when a [Muslim clergyman] entered a Church to meet a national Christian leader [Chief of Change and Reform Bloc, General Michele Aoun] and agree on a memorandum of understanding described as a memorandum for agreement and gathering between Lebanese."
Moreover, Saheli accentuated, "This agreement is strong and solid, and with this understanding, different groups in Lebanon got to know each other and discovered great things in common."
He further highlighted, "Some did not want Lebanese to meet, and some parties frightened Christians of others, then came the memorandum to remove all fears and preoccupations."
"The July war was the first experience for this understanding, where the FPM audience embraced migrants and declared support to the resistance," the MP emphasized.
He added, "This understanding stresses Hizbullah's support to the FPM in reaching an electoral law that allows equality and is approved by Christians."
Saheli further reassured, "Nothing can disrupt this understanding, because it reached the people and the community," noting, "Many Christians speak proudly of supporting the resistance, since it maintained Lebanon's unity and prevented the enemy from venturing in [Lebanon]."