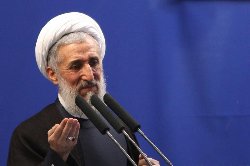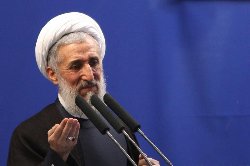 Substitute Friday prayers leader of Tehran Hojjatoleslam Kazem Sediqi said here on Friday that the ongoing awakening movements ripping through the Middle East will spread to heart of Europe slowly.
Delivering his second Friday prayers sermon to large groups of Tehrani worshippers, Hojjatoleslam Sediqi said, "We are still witnessing growing popular revolutions. Supreme Leader of Islamic Revolution Ayatollah Seyed Ali Khamenei as interpreted the movements as a breath of life, which gives vigor to nations and are dynamic, progressive and intolerable to injustice."
"Ongoing conditions in Egypt and Tunisia raise more hopes. The key to the revolutions is the resolve to proceed in the path of the revolution led by late Imam Khomeini. They (the revolutions) will slowly cross all boarders," said the Hojjatoleslam, adding that the European nations humiliated under the yoke of the US government will rise up sooner or later, voicing demands to compensate for the past humiliations.
On Libya, the Hojjatoleslam said Libya catastrophe caused by western military presence is deplorable. "They (westerners) launched war of attrition with the goal to preserve the regime of Libya so as to get highest amount of blackmail from it."
Western forces are against freedom, supporting the dictatorial regimes, he added.
Turning to Yemen, he said conditions in Yemen too are highly regrettable.
He assured the Yemenis that they will be victorious at the end and their uprising will lead to collapse of Abdullah Saleh.
"In Yemen, a usurper, illegitimate and pro-arrogance regime is in power, killing Muslims, attacking mosques and burning copies of Quran," he added.