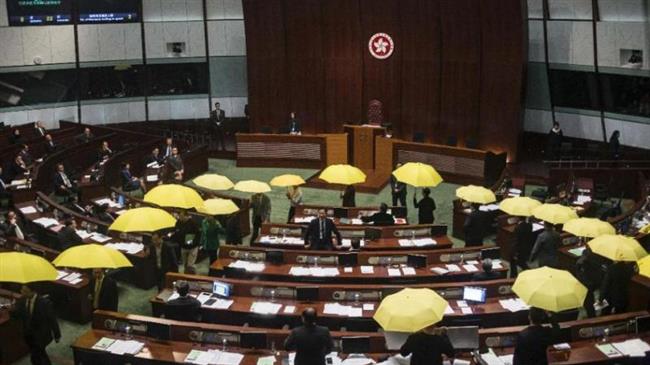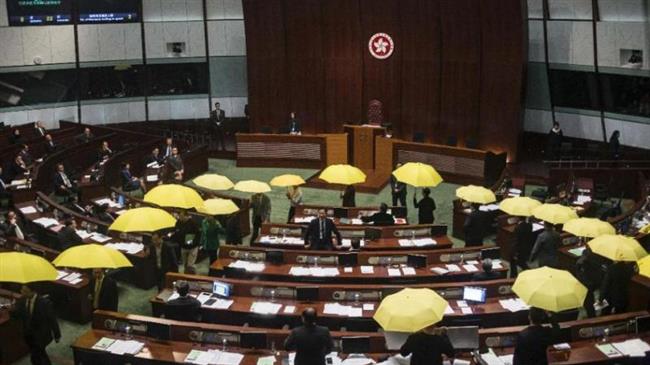 A number of lawmakers in Hong Kong's chamber have walked out to protest against the government's insistence on a proposal to screen candidates for the city's top executive in 2017.
legislators aligned with anti-election law protesters immediately walked out after Chief Secretary Carrie Lam, the city's No. 2 official, opened a second round of consultation on the process of electing the city's next chief executive on Wednesday.
The first round of consultation to discuss the implementation of universal suffrage began in December 2013 and lasted five months.
"I urge the members to think twice and not completely destroy the limited space for political discussion even before the second consultation has started," Lam said.
"Many of my friends feel extreme pessimism whether this proposal of universal suffrage can be passed. … We will make our best endeavors until the last moment."
The development comes after Leung Chun-ying, Hong Kong's chief executive, warned on Tuesday against fresh anti-election law protests and said that the government would not bow to "coercive actions."
Protests in Hong Kong began last September after China said voters would choose the region's next chief executive from a list of two or three candidates selected by a nominating committee.
Hong Kong is a special administrative region of China. The financial hub has enjoyed substantial political autonomy since 1997, when its leadership returned to China after a century of British colonial rule.