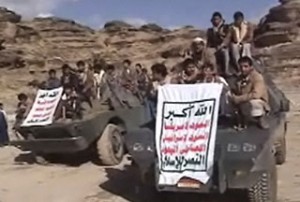 Houthi fighters in northern Yemen say they have seized control of a Saudi military post along the border between the two countries where Saudi and Yemeni forces are waging a campaign to uproot them.
According to a report released by Hezbollah's al-Manar television network, Houthis have seized "full control of the Al-Jamrah Saudi military post" as well as weapons, communication material, military vehicles and surveillance equipment.
The report added that the northern Yemen's Shia fighters overran the Saudi post on Monday and forced soldiers to flee. The post is said to be located in close proximity to al-Khoba in Saudi Arabia's southern province of Jizan.
Meanwhile, Houthi fighters have managed to repulse Saudi forces trying to infiltrate into the rugged Sa'ada province in northern Yemen, after killing an unspecified number of Saudi soldiers.
Houthis said they pushed back Saudi troops from Shada border region in northern Yemen on the border with oil-rich Saudi-Arabia, and also set four Saudi military vehicles ablaze.
Houthi fighters also resisted a Yemeni military infiltration into Jebel Dhar al-Hamar region.
The conflict in northern Yemen began in 2004 between Sana'a and Houthi fighters. The conflict intensified in August 2009 when the Yemeni army launched Operation Scorched Earth in an attempt to crush the fighters in the northern province of Sa'ada.
The Houthis accuse the Yemeni government of violation of their civil rights, political, economic and religious marginalization as well as large-scale corruption.
This is while in addition to the Yemeni government, Saudi Arabia also pounds the Houthis. The Houthis say that Saudi forces strike Yemeni villages and indiscriminately target civilians. According to the fighters, Saudis use toxic materials, including white phosphorus bombs, against civilians in northern Yemen.
The US military is also said to be involved in bombing Yemen's northern rugged regions of Amran, Hajjah and Sa'ada.
The UN High Commissioner for Refugees estimates that since 2004, up to 175,000 people have been forced to leave their homes in Sa'ada and take refuge at overcrowded camps set up by the United Nations.